Online gaming making a difference in reality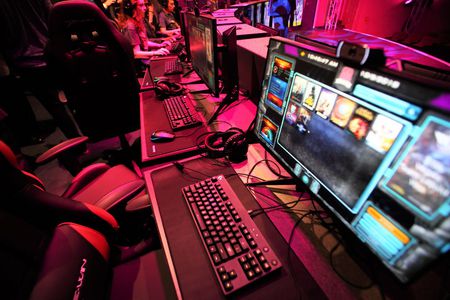 Normal West Esports is a group of people who want to play video games with friends or compete against other schools. They play multiple games such as Overwatch, League of Legends, and Super Smash Bros.
Luke Sherman is an officer for the E-Sports club. He helps manage the social presence for the club. The club got started about 2 years ago in the 2017-2018 school year. "The club started small, with only about 6 members per meeting, playing only Super Smash Bros, a fighting game made by Nintendo," said Sherman. 
The club was started as a way for a small group of students to practice competing in Smash with each other. By the end of the 2018-2019 school year, the club experienced a little bit of growth, but still only had at max about 10-15 members. At the beginning of this school year, however, the club experienced massive growth, with 20-25 regular participants, and more people interested than ever. This could be due to many factors, such as promotion from school club fairs, holding meetings in a new, larger room, or a new Super Smash Bros game bringing in excited newcomers.
"Lots of new members asked about playing other games than just Smash; the club responded by adding in League of Legends (a popular online computer game) to the game library, with official coaches to help out players," said Sherman
Currently, the League of Legends team is coached by Bryce Johnson, Trent Nolan, and Dan Beres. The Normal West Esports Club now is working on growing a competitive team for Overwatch, a team-based first-person shooter game. Today, the club has over 70 registered members, with about 35 regular attendees. 
Normal West Esports meets on Tuesdays after school until 5:30 for more casual play open to everyone, and then again on Fridays after school until 6:00 for practice with the competitive teams. "The competitive teams spend their time playing with one another to practice, learning new concepts that will help them improve their play, and then reviewing their matches to learn from their mistakes and how to make themselves better players," said Sherman.
As far as competition goes, the League of Legends team competes in both the PlayVS and IHSEA online high school leagues. Since both of these leagues are run online, players will either play in a computer lab at school or from their homes.
The Super Smash Bros team participated in the Capitol Classic tournament in Springfield and performed very well. 8 West players made it into top 32, 6 players made it into top 16, 3 players made it into top 8, and Normal West Junior Kameron Ellis won the tournament. The Smash team also sometimes hosts smaller tournaments at the school, but these are more sporadic and do not have a set date.
Students who are interested in joining the Esports Club should contact Mr. Rackauskas, or one of the five club officers: Quinn Gifford, Kameron Ellis, Kwesi Blankson, Luke Sherman, or Tyler Van Draska.