Slim Chickens becomes newest restaurant rage in Bloomington-Normal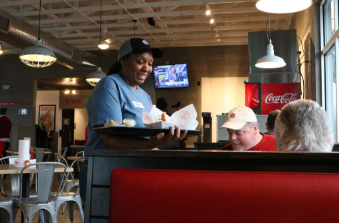 In a town that already has one of the highest restaurants per capita in the country, the number of places to eat out continues to grow.
One of the newest and most recently talked about restaurant to pop up in Bloomington-Normal is Slim Chickens. Slim Chickens opened its doors on North Veterans Parkway in Bloomington on April 3rd. The store is location near the corner of Veterans and GE, close to Biaggis and Walgreens.
With recent additions of Red Robin, Chick-fil-A, and a Portillos to open up this fall, Bloomington- Normal is keeping its reputation of having an abundant number of places to find good food.
Slim Chickens opened their first restaurant in 2003 in Fayetteville, Arkansas and was founded by Greg Smart and Ryan Hodson. The first franchise wasn't opened until 2013. The Bloomington location was opened by franchise owner Dave Harris.
"We love the fact that there's so many people here in Bloomington and it's a real foodie town, so we wanted to bring our goodness to Bloomington," Harris told a Vidette reporter.
Slim Chickens provides a different spin on the typical chicken centered fast food restaurant. Although they still have simple options like chicken tenders, wings, and sandwiches, they also offer more unique meals such as Fried Pie and Chicken & Waffles.
The Slim Chickens in Bloomington is the third location to open in the state of Illinois, with restaurants already open in East Peoria and Champaign. Slim Chickens plans to add to the over 50 locations they currently have with at least 10 more set to open this year.
Slim Chickens will also open its first international location in Kuwait soon.
Plenty of students around Normal West have taken trips over to Slim Chickens to give the new restaurant a try. Junior Taylor Pena said, "It's unique… they have a lot of options on the menu."
Senior Kylee Hess seemed to be impressed by the food. "My dad brought it home and I came home later and heated it up and it was still very good."
The Bloomington location is one of many steps that Slim Chickens is taking to expand their restaurant. With so many restaurants finding success in Bloomington- Normal, Slim Chickens is unlikely to be an exception.