Drunk driver kills two, injures 23 at SxSw festival in Austin, TX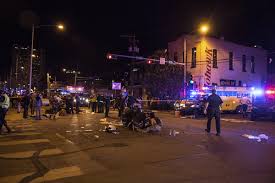 Intoxicated 21-year-old  Rashad Charjuan Owens  ripped through  a crowd of people at the SxSw festival in Austin, TX killing 2 and injuring 23 people.
Police eventually caught the drunk driver after a foot chase. The 21- year – old will be charged with capital murder, police said.
Police have not released the names of the victims, but they were a dutch man on bicycle and a local woman on a moped, Austin Police Chief Art Acevedo said, correcting his earlier statement that the victims had been on a motorcycle.
A victim  was identified by a Facebook post that was posted by MassiveMusic, a music agency with offices around the world. It posted a statement on its website and Facebook page identifying the company's Amsterdam-based creative director, Steven Craenmehr, as a person killed Thursday in Austin. The Facebook post said, "This is an irreplaceable loss for the MassiveMusic family, and we are grateful for the years we spent with him. Our thoughts are with Steven's family and friends."
People were listening to the music in the street just after midnight Wednesday,when the driver fleeing from the police flew through the barricade plowing over people, killing two of them and injuring 23.
Pablo Vasquez said, " the car just barely missed me. If I was just one more foot  to the right i would have gotten hit," he told CNN.
The incident began when an officer noticed a man driving in the wrong direction on a one-way street shortly after midnight Thursday, March 14.
A patrol officer attempted to stop the car near a crowded gas station, Acevedo said. The driver, the chief said, acted as if he was pulling over into the gas station, but he continued through the parking lot and exited, accelerating down the street.
The officer that was attempting to pull over the drunk driver couldn't follow him because the parking lot was so crowded, so he had to back his patrol car out.  Another officer working barricade control had to jump out of the driver's way as he accelerated for about two blocks, striking pedestrians and vehicles, the chief of police told CNN.
A foot chase occurred, and officers finally subdued the drunk driver with a taser.
Rashad Charjuan Owens will face two counts of capital murder, Texas' highest offense by the death penalty, he will also face 23 counts of aggravated assault by vehicle.