New cross country season, new team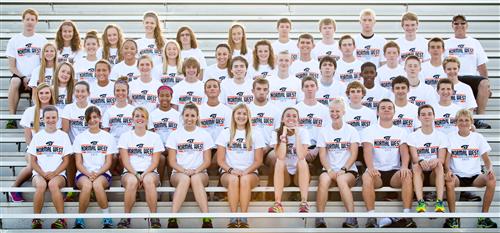 The Normal West cross country team looks forward to a successful season in 2014.  The team gains a new teammate who will help greatly this season. Kirsten Peterson is a junior who moved to West from Indiana and joined the cross country team. The team had four solid varsity girls before Kirsten arrived.
In the sport of cross country the first five runners on the team are added together for the final score. At the end of the race your team wants a low number.
Now with Kirsten,  the team has a full varsity girls' team, consisting of Sara Piller, Andrea Gordon, Bailey Fillipponi-Holstein, Gracie Ecker, and Kirsten Peterson. The team is coached by Steve Destri.
The first meet of the season was held at Maxwell Park on August 30th where the varsity runners ran a three mile course and the JV runners ran a two mile course. Normal West placed 4th at this meet last year and this year they came in 3rd.
Kirsten Peterson said, "It was the first meet, we are ready to improve." Kirsten placed 28th out of 95 runners.
"I felt really happy to have made it to the first race of my senior year! From the very start of my cross country career I always strongly feel the opportunity in the air before I race. I feel content with the outcome of my first race and feel ready for the races to come," said Bailey Fillipponi-Holstein.
Their training has consisted of long runs on Mondays and Wednesdays, tempo runs on Tuesdays, speed or track workouts on Thursdays, and recovery runs on Fridays to prepare for Saturday meets.
Some of the team's goals are to win Intercity and make it to the state meet in November. Coach Destri said, "The girls are capable of accomplishing both goals if they train hard and put their minds to it." Their next meet is in Galesburg on Saturday, September 6th.