Normal West scores five new hockey players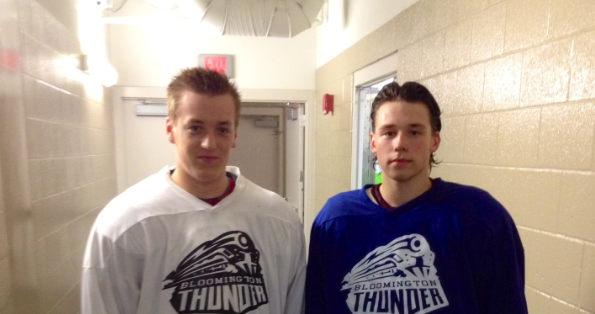 West welcomes five new senior students this school year. Van Barr, Alec Mehr, Jake Paganelli, Forbes Ploszaj, and Jalen Smereck moved to Bloomington-Normal from all across the country to join the Prairie Thunder Hockey Team.
The average day for these students is similar to many other students here: they go to school, go to practice, and have games to play.  Monday through Thursday the boys have practices, while Fridays and Saturdays they have games and morning practices.
"Billet families" house the students and will take care of them as their own for the year. The students' families are not in town.
Normal West was the chosen high school for the students to attend based on their locations.
The guys tell a little about their initial experience here at West.
Jake Paganelli (12) age 17 from New Jersey moved here because he was drafted by the Prairie Thunder Hockey Team. Jake says, "it's definitely been a new experience, but it's been a good one so far."
Van Barr (12) age 17 from Kansas has had a similar experience: "my experience here has been fun, but Bloomington-Normal is a lot smaller than Kansas City."
Alec Mehr (12) age 17 from California was traded to play for the Prairie Thunder team from another league rather than drafted like the other students. Alec says that he loves it here, and "he came here because he wanted to be a Wildcat." All jokes aside, the five boys all came for the pure enjoyment of being on the Prairie Thunder Hockey Team.
The hockey games are mainly Fridays and Saturdays, and tickets can be found on the following link: http://www.ticketmaster.com/Bloomington-Thunder-tickets/artist/1260047
Go support our new students at the Coliseum for their first game!