2014 Oscars recap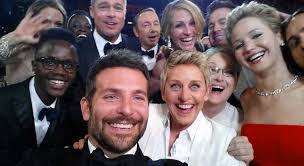 This years Academy Awards was one for the books. People showed who weren't invited, and Samsung Galaxy phones got more publicity than the company could imagine.
During the show, an unexpected visitor showed up. A pizza delivery man from Big Mama and Papa's Pizzeria got to make a special drop off right on the Oscars stage. They even had him personally deliver the pizza to the rows of famous movie stars, while Ellen collected money in Pharrell Williams' hat. This event paid off to the whole business, sending them new waves of pizza orders from homes to shopping malls. "Who's your favorite movie star? Because they're here," said host Degeneres as she pulled the delivery man onstage.
Another major event of the Oscars was host Ellen Degeneres's idea of taking a "selfie",  photograph using a front facing camera. Once she had invited a few to join her, many others left their seats to be in the picture. "Once she had her phone out I knew she was going to do something like that, so I ran to my room to grab my phone. I was one of the first 15,000 to retweet it," said NCWHS junior Emily Schroeder. The outcome was Bradley Cooper holding Ellen's cell phone, capturing not only himself and Degeneres but Jennifer Lawrence, Jared Leto, Channing Tatum, Meryl Streep, Julia Roberts, Kevin Spacey, Brad Pitt, Angelina Jolie, Chiwetel Ejiofor, and Lupita Nyong'o. Not only was it talked about for days, but it received over 7 million retweets on Twitter, breaking the all time record.
The nominees for Best Actress in a Leading Role were Cate Blanchett (Blue Jasmine), Judi Dench (Philomena), Sandra Bullock (Gravity), Amy Adams (American Hustle), and Meryl Streep (August: Osage County). There was no clear front runner, and a gracious Cate Blanchett took home the award.
The nominees for Best Actor in a Leading Role were Leonardo DiCaprio (The Wolf of Wall Street), Christian Bale (American Hustle), Bruce Dern (Nebraska), Chiwetel Ejiofor (12 Years a Slave), and Matthew McConaughey (Dallas Buyer's Club), who took home the Oscar. However, Ejiofor was the favorite and suspected to receive the most votes.
Many faithful DiCaprio fans were devastated when the actor didn't win, many claiming that he is under appreciated. He has been nominated for only four Academy Awards, and surprisingly has never won. Fans flocked to social media, making #PoorLeo a national trend. Normal West freshman Karrigan Hardy commented, "He should have won an Oscar for What's Eating Gilbert Grape when he was like 15, but this year definitely wasn't his year. He's an amazing actor but he had some really tough competition and he's done way more Oscar worthy material, so in a way I was kind of happy that this wouldn't be the Oscar everyone remembered."
12 Years a Slave swept the board in awards and nominations. Adding to their trophy case is the award for Best Picture. They beat out some top movies this year, American Hustle, Gravity, Captain Phillips, Nebraska, Dallas Fighters Club, Her Philomena, and The Wolf of Wall Street.
The 2014 Oscars were one of the most watched, most successful award ceremonies in years. There were surprise guests, and unplanned marketing for small and large businesses alike.