The 2023 Normal West varsity volleyball team is different.
In fact, Head Coach Kelsey Mueller calls this team "gritty."
"It's an identity for the varsity. This group, specifically, I kind of want to say they're 'gritty,''' Mueller said after being asked to choose a word to describe her 2023 squad.
 Why are they "gritty?"
Mueller credits the fact that this group has worked hard since day one. 
"You know, you see some over the summer, and we prep this from last year. I have meetings with all my players at the end of the season to talk about how their reflections were on the past season and then their goals moving forward," Mueller said. "I think that since day one, we start tryouts and start rolling."
 In addition to working hard, Mueller also credits the girls' focus on team chemistry and having a growth mindset. After a red hot start, they have continued a consistent rhythm. Their mindsets have grown as the season progresses, helping them get out of their comfort zone.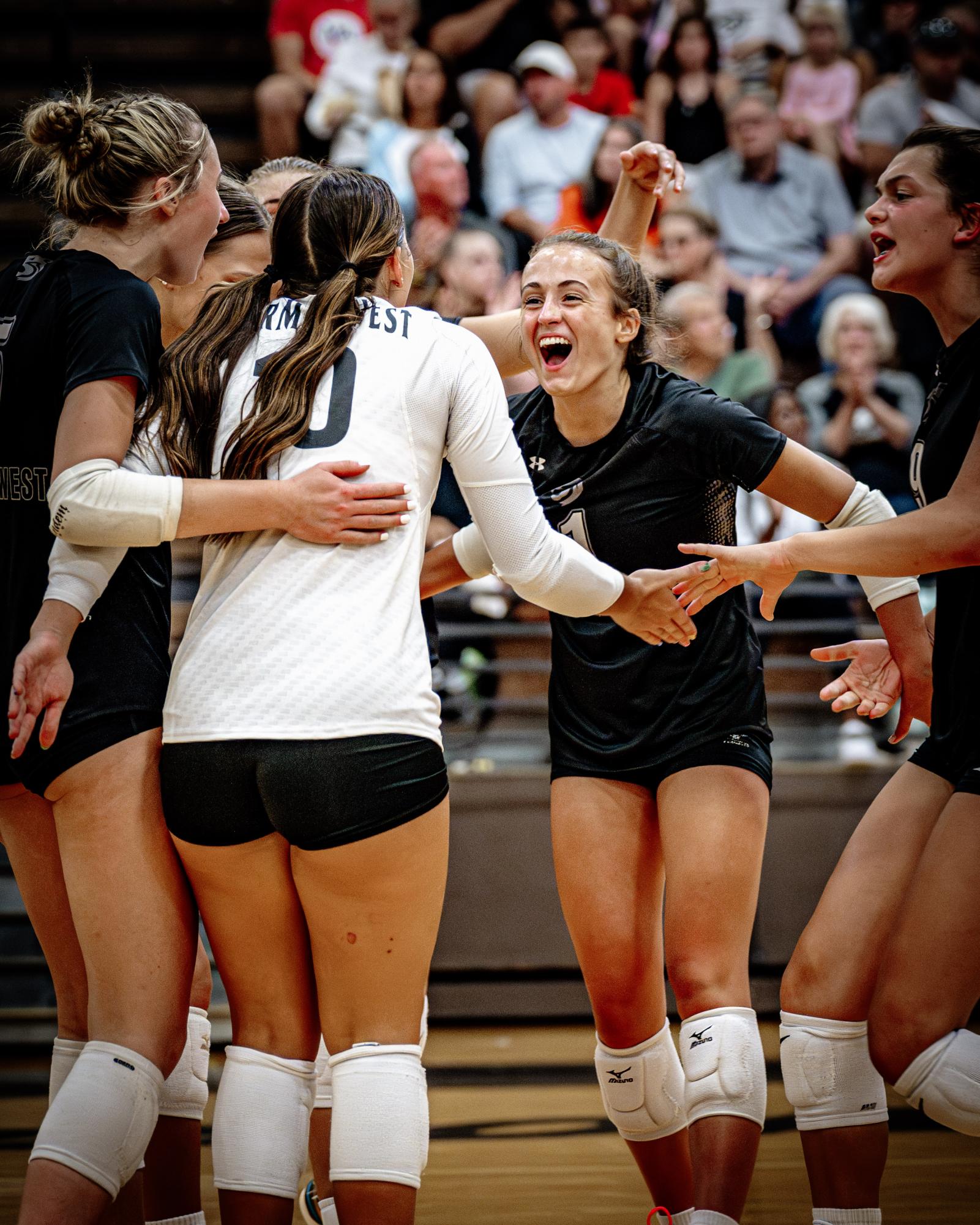 "Their relationships with each other was a point that they all said that they wanted to be better than last year. We've been talking about just having a growth mindset and not getting frustrated, especially if we're trying new things, and we understand that we only get better if we're uncomfortable in practice," Mueller stated.
"So I've been pushing them outside of their comfort zone a lot and kind of getting on them when, you know, I think maybe they don't really want me to be getting on them, but it's just because they know that we can be better, and they can be better individually and then also as a team, so yeah, they've been working really, really hard," Mueller added.
The girls have responded well to Mueller's approach, and, in fact, recognize the results that are apart of their growth mindset and sense of togetherness.
"I have a team that helps me be successful. I…have awesome defense, which means good passes that help run the offense…which helps me control the offense, which makes my hitters look good. It's just all-around good contribution," added Senior Reanne Cupples.
In addition to working on the obvious "volleyball-related" things, this team has been having fun, as well. In fact, they have been known  to do scavenger hunts and other team bonding activities to improve the team's chemistry. Mueller enjoys having fun with her team. 
"I think it's important to be intentional about some of that stuff. You know, at the end of the day, I just got done talking about playing hard, but it's really not about that… Like, it's obviously fun, you know, to win, and they keep score for a reason. So it is something that we're gonna' try to do. But really, at the end of the day…20 years from now, [the girls are]  gonna' look back and remember all the other fun stuff that we do," Mueller stated. 
Mueller clearly understands that building relationships  is a key to success on and off the court, and it's clear that the 2023 squad knows this, too. 
There are many things that the team does to bond. For example, they do a "dance-off," in which "each team just has to make a dance, and there are requirements and [the dances] have to be two minutes. [Each team has to ] have a surprise…and a message behind the song choice. Then, they [get] 30 minutes during three days of practice to work on it," Mueller explained.
Mueller says this is a good way to push them out of their comfort zone and allows all of them to lead  in a variety of ways beyond the typical on-court leadership.
In addition to the annual dance-off, they also have photo scavenger hunts, team dinners, partner switch-ups in practice, and special handshakes with each other. They also highlight each other's attributes at the conclusion of practice when they are given the opportunity to give a teammate a compliment or "shout-out." 
It's activities like these shout-outs that not only build team chemistry but also recognize some of the student athletes who may not typically get a lot of outside attention.
As Mueller stated, it takes everyone, from those who play every game to those who sit on the bench cheering the team on, to be a good team. It has taken every last team member for this squad to sit at a whopping 29-3 record heading into the conclusion of the regular season and beginning of the postseason.
"You need everybody," Mueller stated. "There's six people on the floor, but, again, you can't be [29-3] without everyone. I just feel like there's some people that maybe aren't, you know, they're not the ones who are scoring the ball on the court, but they are doing things like, you know, making everybody laugh, being a support system for their teammates, and working their butt off so that when we're in practice, we're all still getting 1% better and staying ready," Mueller added.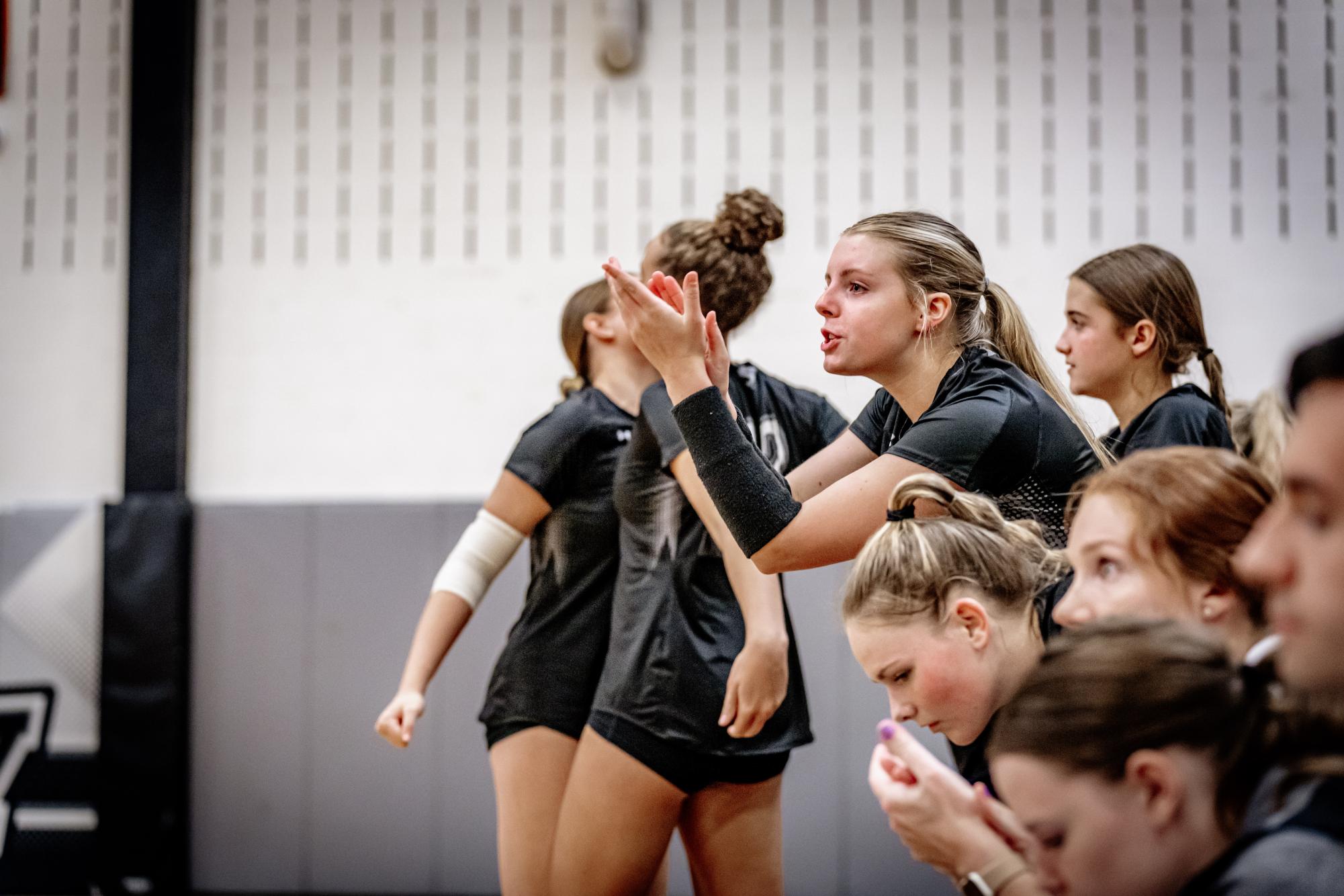 Mueller acknowledged her "studs," in Sydnie Hernandez (a Bowling Green University commit), Ellie Rink, (a junior standout), among others. However, she also notes that teammates like Adsea Schieler, Bailey Vaux, Shelby Sennett, among others who are vital to the success of the team. The underclassmen are also critical pieces of the program's success, as well.
"[One big takeaway from this season is a special focus on my] mindset and absorbing all of it in practice and in a game. [Taking] every situation [I] get and really [proving] ][myself] in practice. Being able to execute in practice and be able to perform that in a game bringing energy up as well," Freshman Hope Ferrill noted about what she's learned from the upperclassmen and Mueller this season.
The coaching staff is another integral part in the team's success, as well. Mueller's current staff consists of four coaches, including Dominic Bennett, who has been her assistant for four years. Bennett has a vital role in the everyday procedures of the team. 
"I feel like I really am able to help the setters, especially, but then also I feel like I bring a nice positive voice to this group, and I'm always there to help any of the players with whatever they need on the court to just motivate them, as well. I also help Coach Mueller with a lot of her decisions and keeping everything on track," Bennett added.
Other assistant coaches include Anna Harkins, who  has been the freshmen coach for the past 3 years; Liz Heitmann, who is in her first year as the head JV coach; and former student Hannah Sig, who is an assistant.
With the postseason quickly approaching, it is clear that West's 2023 volleyball team is full of players and coaches who work their hardest not just for themselves but for each other. That is what makes them  so successful, and that is also what makes their fanbase so excited to see what they can do in the postseason. 
The girls head to Urbana High School tonight for their final conference match-up. A win here will secure the first conference championship since 2020 for the Wildcats and will surely be even extra motivation as they head into the post season to play United Township High School at East Moline (United Township) on Tuesday, October 24.