FMP succeeds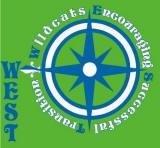 Throughout the past several years at West, one of the most popular and often discussed organizations has been the Freshmen Mentoring Program. This program focuses on helping the new freshmen at West have an easy transition from junior high to high school under the supervision of upperclassmen.
Each freshman is assigned a junior or senior boy or girl who is their mentor. That junior or senior has one job: to encourage the growth of their freshman through activities and to serve as a role model to their assigned freshmen.
Other goals of the Freshmen Mentoring Program include: facilitating self-esteem through leadership, encouraging personal responsibility, exploring personal social values, improving group interactive skills, improving organizational skills, understanding school expectations, improving critical thinking skills through creative expression, problem-solving, and decision-making, and committing to graduate.
The freshmen are not given a choice of whether or not they partake in FMP, so one question arises: Are the freshman actually enjoying themselves year after year?
According to recent surveys filled out by the freshmen, the answer is yes! So far during the 2014-2015 school year, the majority of the freshmen seem to have thoroughly enjoyed themselves and responded to the survey in a positive way. Kara Froidcoeur, a freshman at West, said that she "looks forward to FMP every day" and that she "wouldn't change a thing about her FMP."
Another freshman, Jayana Fennell, said of FMP, "I really like all of the activities that we play every day. The FMP experience has really made me come out of my shell and has made the high school transition much smoother."
For more information on the FMP program, visit http://www.unit5.org/domain/1003.