The Flappy Bird addiction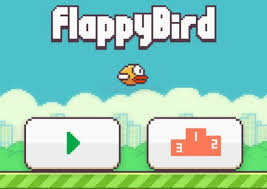 Flappy Bird has taken the world by storm, being the most popular mobile application in the month of January.
Flappy Bird is a simple yet challenging game in which the player has to fly a bird without hitting any of the green pipes. The player does this by tapping the screen to move up, and when the player doesn't tap the screen the bird moves down. Each time the player moves through a pipe without hitting it, the player receives a point. The game has Mario-like graphics that add to the simplicity.
The game was developed by Nguyễn Hà Đông, a game developing company based out of Hanoi, Vietnam. The game was published by  .GEARS Studios, also a game developing company based out of Vietnam.
Flappy Bird was first released in May of 2013 for the IPhone 5. In September of 2013 the creators updated the game for the IO6 software for IPhone's. Soon after the game was released on to android phones.
Many critics love the game, saying that it will soon surpass popular games such as Candy Crush and Angry Birds. Other critics say the opposite, sit's a frustrating game with bad graphics."
After being the most popular app of January, Flappy Bird's popularity continues to grow and will most likely still be a top app by the end of February.
The game is very challenging and for many players it takes them many tries to even get one point.
When asked what his flappy high score is, Senior Bryce Lavelle said, "13. The game is very challenging."