Holographic technology a change for the future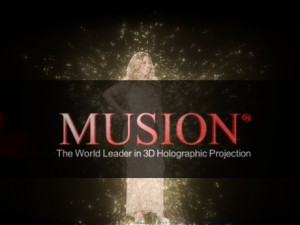 Since 2003, having over 700 successful projects, Musion's patented holographic technology has changed the way people experience live events and communicate.
Sir Richard Branson demonstrated his ability to think differently. Before the world knew about holographic projection, Branson used Musion to launch Virgin Digital, an online music store that ran through an internet browser opposed to a music player, in London.
Not long after Virgin Digital was launched Musion Eyeliner, a high definition video projection system that allows moving images to appear within a live stage setting, was released. Musion Eyeliner made headlines in 2006 when Madonna performed with the animated British band Gorillaz at the 48th Annual Grammy Awards.
Snoop Dogg and Dr. Dre helped to announce that Musion3D was here in their famous performance alongside Tupac at Coachella in 2012. The holographic Tupac proved to be game changing and year-defining with thousands of press articles and millions of Google searches and YouTube views.
Many people did not believe it was a hologram, they thought it was old footage and the most unrealistic thought was that it was actually Tupac himself.
"This is not found footage. This is not archival footage. This is an illusion," El Ulbrich, the chief creative officer of Digital Domain told the Wall Street Journal. "This is just the beginning. Dre has a massive vision for this."
The inventor, Uwe Maass, based Music Eyeliner on a Victorian-era light projection system called 'Pepper's Ghost', "'The Pepper's Ghost system is relatively simple. It is a piece of foil in a 45 degree angle and it reflects the image from the floor onto the stage." From the audience's perspective the light projection can offer all kinds of effects including making realistic 3-D people appear on stage," said Maass in an article with CNN.
Since then the technology has been used by Universal Studios, Disney, and Sony, as well as performers including ABBA, Will.i.am, Mick Jagger, and Mariah Carey.
"It's a really cool idea," senior Ricky Lewis said, "But I don't think I'd want to spend money to see my favorite band if they were all holograms."
Maass says that his company's next main project is to help Cirque du Soleil bring the work of Michael Jackson back to life in the 'Immortal World Tour'.