ISU screens documentary about troubled youth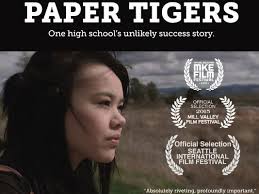 On Wednesday, March 30, Paper Tigers was shown at Illinois State University's Braden Auditorium. The documentary featured stories from several students and teachers from Lincoln Alternative High School in Walla Walla, Washington.
The movie documents a year at the school whose focus is to educate troubled youth. The film examines what can happen in Trauma Informed Communities –  a movement that helps youth struggling with Adverse Childhood Experiences (ACES).
"Here in Bloomington-Normal, things might not be perfect, but it sure is nicer than some places," comments Jacob Helms, a junior from University High School who came to view the film.
"It is important to watch things like this so you can learn, especially if you live a privileged life. This film opens your eyes to things that might even be going on in your own community. You can get so wrapped up in your own life, it's important to remember how good you have it sometimes," Helms concluded.
After the screening at ISU, viewers were encouraged to stay and listen to a panel of speakers who spoke about the school from the film and how work could be done to begin change of schools here in Bloomington-Normal.
The speakers included the executive director of Heartland Head Start, the director of the school of social work at Illinois State University, a coordinator of field experience for the department of special education at Illinois State University who use to teach troubled youth, and a psychology professor from Illinois State University.
The panel discussed a variety of topics the ACES, learning how to deal with students who have troubled home lives, to the work that the teachers at a school like Lincoln put in.
After the panel discussion, the audience was invited to ask questions. When a speaker at the front of the room asked those who were teachers to raise their hands if they had ever seen any students dealing with things similar to those shown in the movie, nearly half of the audience raised their hands.
When he asked if anyone who was an educator had never seen anything like this, not a single person raised their hand.  
When leaving the theater, tables displayed information on programs in Bloomington-Normal that are designed to help at-risk and troubled youth like the Boys & Girls Clubs of Bloomington-Normal, Project OZ, the Big Brothers and Sisters of Central Illinois and many others.
Movie goes get ready for the film to start at ISU's Braden Auditorium.
Photo by Ceil Steinbacher-Kemp