Theatre springs into action with 'Harvey'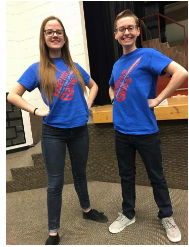 Musical may have already happened this year, but now the theatre department will be putting on a spring play directed by Mr. Kerr.
The show this spring is "Harvey". Mr. Kerr said, "'Harvey' was written at the end of the 1940s and has won some significant awards since then. It's a very feel good show, but it also teaches a good lesson about how we treat others."
Regarding upcoming auditions, Kerr said, "The audition will include sections of the play and small groups will read the passage. The groups will be switched around throughout the audition process. We are looking for six males and six females to fit these roles."
Nick Koch, senior theatre member, mused about his excitement for the play. He said, "I haven't done a play since freshman year and the story for this year's play seems interesting. I'm excited because this play has a lot of quirkiness and it's entertaining. There's more to it than it seems, too."
Koch has been in many musicals and discussed the differences between musicals and plays. He commented, "Musicals have a bad rep for having a typical story line and in plays it's one scene to another rather than some cheesy song. It also relies more on the acting than the singing."
Senior Krista Barth, also a theatre member, shared her thoughts about having the play in the spring. She said, "I don't mind switching the seasons for the productions because it's actually less stressful for everyone's schedules."
Barth elaborated on the play as a whole and mentioned, "I'm really excited because it's not as big of a production as musical and that makes it a lot less stressful. We still have a lot of fun and we get to create something awesome."
Barth also said, "My favorite part about being in a play is how close the cast and crew get. Since the cast is so small, it's really easy to bond with your cast mates which benefits the show."
Auditions will be February 27th, and even with a small cast, everyone interested is encouraged to come audition.