Normal West is playoff bound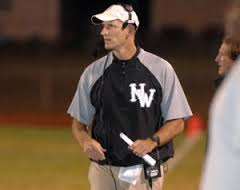 On Saturday, October 31st, the Normal West Wildcats are looking to deliver Peoria Notre Dame some payback and advance to the second round of the IHSA class 6A varsity football playoffs.
Four weeks ago, Normal West suffered a hard fought loss against Peoria Notre Dame by a score of 56-52. Now is their chance to get their revenge and knock Notre Dame out of the the playoff race for state champion.
"Obviously our kids are excited because we have another opportunity that you don't always get in football," Coach Darren Hess said when asked about how the team has a second chance to beat Notre Dame. "You usually play every team just once, so this is a big opportunity for us."
All week Coach Hess has been checking up on the team and making sure they're focused and ready for this opportunity on Saturday.
"I've been talking to the kids all week about staying consistent, I told them that we are both different even though it was just four weeks ago," said Hess. "I think we have a lot of momentum, with a three game winning streak; we've been through every situation you can think of and our 
kids always respond especially after a tough loss like that, so I think we'll stick to our original game plan. We're just excited about this second chance."
They should be excited, this is a huge opportunity considering this could be the last football game of the season and possibly ever for the majority of the varsity team. Over half of the Normal West varsity team are seniors so this game means a lot to them.
"I don't even know how to explain it," commented senior Dajour Forrest on what this possible season ending game means to the seniors. "It's sad. I guess you can say that this game is probably more important to us than any other game, because you never know how it will end. This could be our last game together so we need to make it count."
Making it count is the way they need need to approach this game. Win or lose, this game could make or break this teams chances of being state champions. If the Wildcats are able to defeat Notre Dame Saturday afternoon, they will face the winner of the Springfield Sacred Heart-Griffin and Palos Heights game in the second round of the IHSA class 6A varsity football playoffs.