Oberweis, That Burger Joint to open soon in Normal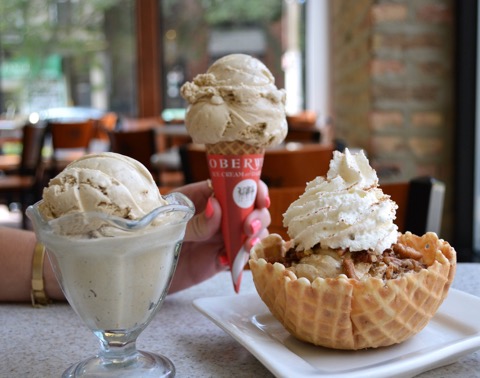 Oberweis Dairy is a new ice cream and dairy shop that plans to open within the next few weeks in Bloomington-Normal.  In the twin cities, which boast the highest number of restaurants per capita, Oberweis will have olenty of other ice cream shop competitors
"Oberweis will have to think of how to become more popular than its competitors. Their frost bites and regular ice cream is good, but they haven't been here as long as the other ice cream shops in town. That's a disadvantage for them," junior Carley Baughman shared.
Although competition will be difficult because of how long other shops have been in town, Oberweis offers a wide variety of ice creams and dairy products for all to enjoy.
"The Oberweis menu offers almost every dessert you can think of. We have banana splits, old fashioned hot fudge sundaes, root beer floats, shakes and much more," store manager Max Hinton told the Illinois State University newspaper, The Vidette.
Oberweis also sells dairy products, such as glass bottles  of milk and packaged quarts of ice cream to take home. Another new restaurant will be connected to Oberweis, called That Burger Joint. They also sell a wide variety of foods.
"As for That Burger Joint, we offer high quality burgers and chicken sandwiches, hot dogs, fries and as of recently, patty melts and chicken tenders," Hinton added.
Many students are excited about Oberweis coming to Bloomington-Normal. It opens up new job opportunities for high school and college students.
"I would like to work at Oberweis because I think it would be fun and I love ice cream," Kayla Johnson (12) said. "Oberweis has good ice cream, but they also have good chocolate milk which I'm also excited for," she said.
Bloomington-Normal will soon have two new restaurants to add to their town. Oberweis and That Burger Joint will be in the old Carlos O'Kelly's building on Veteran's Parkway. With both restaurants being in the same building, they should draw a steady business.  The restaurants are scheduled to open sometime this month.