Normal Theater screens tech festival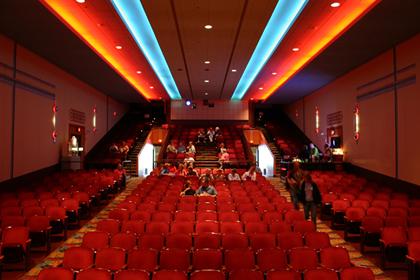 This year, the Normal Theater is hosting an "Arts Tech Film Festival", screening movies about science and technology, from April 20-24.
For around 30 years now, the Normal Theater has been showing classic and independent movies at their theater. However, they also sometimes have festivals dealing with a certain theme.
For example, in years past they have hosted "Your Normal LGBT film festival" which created a showcase for lesbian, gay, bisexual, and transgender stories to further educate anyone that decided to attend.
Another festival, "The Manhattan Short Film Festival" has been shown annually at the theater for a number of years. This screening of several films all over the world has patrons vote after the movie, and world wide results are posted later.
"We try to do things like this every so often, have festivals and things like that," comments Adam Fox, manager of the theater, "But this Arts and Tech Festival is new, so we are excited about how well it's been going so far.'
This year, the theater is introducing a new festival. "The Arts Tech Film Festival". The focus of this festival is to "focus on the computer as a character onscreen.".
The theater is partnering with the Arts Technology Program from Illinois State University to show all of the films that they have lined up for the week.
Each film shown for the festival has been followed by a discussion surrounding topics such as: computer portrayal in films, computers as characters, and technology in our world today.
Last night, April 21, as part of the festival, the theater showed a screening of War Games (1983), an American Cold War science fiction film starring Matthew Broderick.
"I love this movie," comments Candace Summers, director of education at the McLean County Museum of History, and an attendee of the showing last night, "But it was extra nice to see it on the big screen again."
The final film of the festival, Creative Control (2015), will screen tonight, Friday, April 22 at 7:00pm.