Despite student protesting, the second PARCC test still given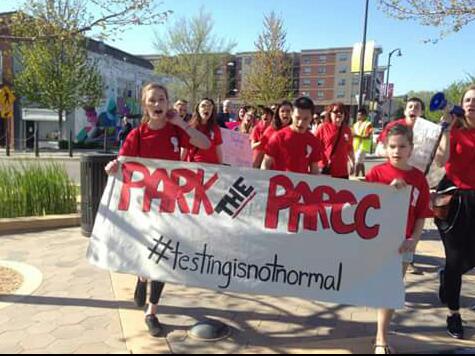 NORMAL- On Tuesday, April 27th, over 30 color coordinated West students sat in the middle of Uptown Normal to protest corporate control over their schools and debate PARCC testing. The students held up signs, and took the risk of administration punishment to stand up for their education.  Even though over 85% of students parents and teachers are against PARCC testing, the second unit of testing was still issued to students last week.
 But this is not the first time students have protested. But this is not the first time students and parents have rallied before. Back in February, when the first unit of PARCC testing transpired, the Blono Student Union and over 70 students, teachers and parents walked the streets of Uptown Normal with signs, brochures, and megaphones.
 Parents and students are definitely one of the most powerful participants in the PARCC testing debate, for a transparent reason: they're reasonably invincible. Nobody can fire them, or revolt against their protesting. Furthermore, they're not just simply kibitzers. Their lives and their children are impacted  with the decisions regarding education.
 Emma Nippe, junior at Normal West, organized a protest group via Facebook called Park the PARCC, to get Normal West students to join in the rally.  According to the Facebook group, over 40 Normal West students said they were attending the protest on April 27th. Emma Nippe, junior at Normal West, and organizer of Park the PARCC, said "I think it's an awesome cause to be working for. I want the students in this school to believe that they have a voice.The protest really offers a strong opposition for the students themselves to be advocating for their education, and I fully support it."
 But what is the real reason students, parents, and even some teachers repudiate PARCC testing?
 "There's definitely a lot of cons to PARCC testing, one of the biggest one's being that it is unrealistic. And the validity is questionable. It takes up 10 to 12 hours, and it closes the IMC, so other students don't have access. Also, I don't really think the test accurately measures the students readiness for college. It's kind of a 'one size fits all' kind of deal, and every student is different.
 And it's not good for the younger grades. 2nd and 3rd grade are nowhere near ready for this test. It bothers me that students are learning the computers before they can fully learn to write on paper. Having a rigorous set of standards is good, but not when they are ridiculously high." said Mr. Beal, english teacher at Normal West.
 "Of course there are a lot of negatives to the testing, but we have been doing tests like these for a long time. I'm more so against how unfair this system is. We don't really get a say, and that sucks. It's coming down to a bigger goal here." said Sarah Thede, junior at Normal West.
 "I'm really hoping that if PARCC testing continues, students and parents will continue to stand their ground and petition. We all need to know just how important the voice of one person can be." Thede added.