Student Council welcomes the challenge of new leadership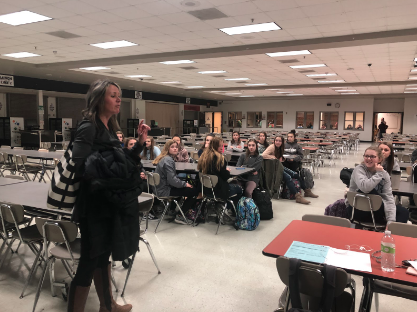 Student Council is at the core of West. Whether it be planning assemblies, decorating for homecoming or putting on entire shows such as King of Hearts, Student Council's hand reaches a majority of the school events that occur. Although the organization's effect on the school has remained the same for many years, each year's Student Council  has new students and leaders.  Furthermore, as this year's Student Council comes to an end, the selection of the 2019-2020 board for members is also met with the search for new staff leadership as current adviser Mrs. Carrie Hoffman is resigning her position.
Graduating seniors on Student Council is always expected, it's an inevitable part of high school, so each year it is necessary to find a new group of students to replace those who will move on.
So many people have interest in filling roles on Student Council because as Morgan McKinley (11) said, "Student Council does so much, that's why I wanted to be a part of it. Sure what we do sometimes stresses us out, but at the end of each job, you look back and think 'I did that'"
This year's Student Council has 52 members in total with nine board members holding titles. 10 seniors are expected to graduate, meaning close to 20 percent of Student Council is leaving, in addition to that 77 percent of the current Student Council Board will also leave after graduation.
Although Student Council needs members each year to keep up the fun and time-consuming tasks, it's a competitive and selective group who are expected to hold a high level of responsibility. What makes the organization work and requirements worth it are the endless opportunities to get involved here at West. Because of this, the amount of people who express interest in Student Council are consistently higher than the organization's membership volume capability.
"You apply as an eighth grader for your freshman year. It's nerve-wracking because they don't really know you at West yet, and you don't really know West either," said Ana Dejanes (10). "All you know is you want to be involved".
Because of this, the process of being a part of Student Council begins before the school year even starts. Applications are released in March for the following year, allowing the Seniors to  have the opportunity to train and mentor the new crop of members until their impending graduation date.
"Having been a part of the selection process, I know there are a lot of applicants each year. It's hard to decide who gets to be a part of Student Council because I already know how great it is," said Riley Nichols (10).
The requirements of Student Council remain relatively consistent from year to year, allowing applicants to know what is expected; however, creativity is encouraged and new approaches and events are always welcomed.
"This is my third year on Student Council, and I've seen the way different presidents lead year to year. Everyone has different approaches that can be carried on in future years or tweaked to become even better," said Sydney Morgan (11).
With new student leadership emerging each year, one consistent leader has been a Staff Advisor and Guidance Counselor, Mrs. Carrie Hoffman. After several years of being the official leader of Students Council, she just announced her resignation of this position.
Mrs. Hoffman, peaking at the last student Council meeting of 2018-2019, "I will not be a part of Student Council next year, this will be my last year," she said, "As you know I'm a counselor, I usually find myself helping kids who need a little extra 'TLC' and working with you all has been a breath of fresh air".
"Hoffman has been such a big help," said Molly Mook (12).  "It seems like we couldn't have done anything without her, she's leaving big shoes to fill".
Despite the impending changes within the Student Council organization, students are eagerly looking to begin the new year. With the new member list being posted soon after spring break, Student Council is already looking to make the next year great. With a group of new members, new ideas, and new leadership, Student Council is going into the 2019-2020 year full of change, it will be the beginning of a new era.