2017 offered new fashion trends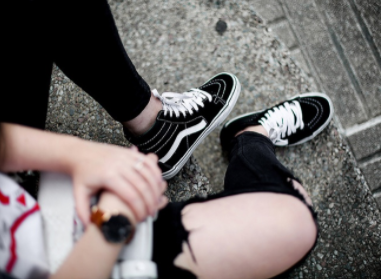 2017 saw many fashion trends throughout the year. From street style to runway to stores near you, these were some of the top trends of the year.
Side-stripe pants were extremely popular, especially from the brand Adidas. These were mainly worn as street style or athletic wear. They were eventually adopted by designer brands such as Gucci and Calvin Klein. Because they came in a variety of prices and styles (color and wide/fitted legs) they were universally appreciated.
One of the more convenient trends was side bags. Also known as the fanny pack, the small bag not only worked as a fashion piece but was also great to take to concerts, festivals or days out. These bags became so hyped because of brands like Gucci, Balenciaga and Supreme x Louis Vuitton.
An unexpected trend was Puffer coats, which were made extremely accessible by fast fashion stores like Urban Outfitters, Zara and H&M. The fashionable jacket made a statement while keeping you warm.
For shoes, clunky sneakers such as Kanye's "YEEZY BOOST 700" or Balenciaga "Triple-S Kicks" were popular. A quote from hypebeast.com is that the shoes are "big, bold and gloriously ugly".  
According to highsnobiety.com, a more specific pair of shoes that was popularized this year was the 'Old skool' Vans. They are perfect for street wear and specifically skateboarding. Celebrities  compared them to the Converse Chuck Taylor All-Star's or the Nike Air Force 1's.
Year after year, minimalism seemed to almost replace bold graphics and logos until 2017. All thanks to the popularity of Gucci's "bootleg" T-shirt, Champion/Reebok tracksuits, Balenciaga's caps and many other high-end brand's spreading their logo across their clothes. The bold logos were one of the top trends for street style in 2017.
As for 2018, Vogue.com predicted some trends they think will appear this year. Scrunchies are said to replace dad hats and cargo pants are going to take over for normal pants. Micro purses, also known as "carry-nothings" are apparently going to be replacing the fanny pack. One of the more abnormal trends is going to be Mashed-up prints, brands such as Valentino and Céline are going to have their busy florals and checkered pieces paired together.