Gamma Phi Circus set to reveal 87th edition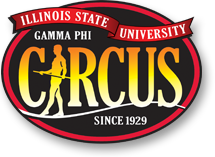 Celebrating it's 87th birthday this year, ISU's Gamma Phi Circus is the oldest collegiate circus in the US. The circus is a group of students who commit their time to the community, classroom, as well as their circus acts.
The show lasts two hours and consists of over a dozen acts including: aerial, acrobatic, gymnastics, clowns, teeter board, high wire, German wheel, unicycles. This years theme is "Around the World". The audience will witness different cultures and countries during the show. No two shows are the same, so going to the circus is a new experience every time.
Gamma Phi Circus Director Marcus Alouan, is in charge of teaching the students how to do most of the acts seen at the circus. He, along with assistant director Aivan Stoinev, schedule events for the students throughout the year. Alouan said, "We are very excited about our 87th year of circus. We've got a great show in store!"
Chris Stoinev is a junior at Normal West and he calls the circus his family. At West basketball and football games his talent shines when he juggles at the halftime shows. He owes his passion and talents to what he has learned from his involvement in the circus through ISU. Stoinev stated, "I hope to go to Illinois State when I graduate to stay involved with something I love so much. I have been doing it for most of my life and couldn't imagine life without it."
News.illinoistate.edu said the mission of the Gamma Phi Circus is to "Uphold circus values; commitment, integrity, respect, courage, unity and service." Having a local group with such dedication is something the Bloomington-Normal community should support and take pride in.
ISU's Gamma Phi Circus will be preforming first at Redbird Arena on Friday, February 15th and Saturday, February 16th. The performance on Friday will start at 7 PM and Saturday at 1 PM and 7 PM.
Tickets for the Gamma Phi Circus will be sold at Braden Box Office, on ticketmaster.com or at the door of Redbird Arena on the day of the show.