Mr. Mintus to say goodbye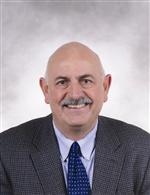 After 20 years, beloved assistant principal Mr. Mintus has announced that this is his last year as a member of the Wildcat family. Mintus wasn't always an administrator; in fact he started out as a social studies teacher during his first seven years as a Wildcat. For the next 13 years Mintus would be the assistant principal for students with the last names A-G.
It's not easy going from a social studies teacher to an assistant principal, but Mintus did just fine. The students loved him as a teacher and continued to love him as an administrator. For student Jessica Sigler(12),  Mintus has always been her favorite administrator. "I love Mintus! He's so chill and can relate to the students. He's not my assistant principal but I wish he was, I wouldn't have an issue coming to talk to him about anything."
Jessica is completely correct.  He's easy to talk to, he will work with students on any problem they may have, and he understands what it's like to be a teenager.
By his appearance, he might look like an intimidating person but in fact, he's a sweet, caring guy.
Junior Austin Hartke said, "I've never had a problem with Mr. Mintus. In fact I accidently dressed like him for senior citizen day. I had the mustache and everything. He got a good laugh out of that. I'm sad to see him go before my senior year, I wish he would stay for one more year."
Like Austin, many students are sad to see Mr. Mintus retire. He is a nice friendly face you like to see when you're having a bad day. It's definitely going to be hard to see Mintus go, but we wish him the best of luck. So after 20 fantastic years as a Normal West Wildcat, we would all like to wish Mr. Mintus farewell and good luck with his retirement and future adventures!