Normal West students excited for Prom 2014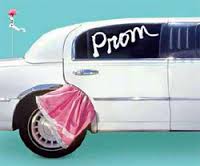 Students all over Normal West are buzzing with dress colors, hair ideas, restaurant reservations, and so much more. Only one thing can be the cause of all this madness: PROM!
This year's prom will be held on May 10th at the bone student center at ISU. The theme for this year is "The Oscars" so you can expect to see students looking their very best.
Prom is an event geared toward the junior class so they come up with all the details. Some of those details didn't sit right with other students in the school. For example, dinner will not be served before the dance this year. Many students are upset about this because ticket prices are still pretty high at 40 dollars. Last years ticket price was 50 dollars, but dinner was being served.
"Food is an extra expense so now you have to factor that in and take the time to make dinner reservations on top of everything else that you have going on. Its just a hassle," said senior Ryan Frye.
Although there are some upset students people are still excited for the weekend ahead.
An annual tradition at prom is to announce the prom king and queen for the year. Last year's winners were Tia Robertson and Jackson Garret. This years nominees are Amy Nelson, Keely Theobald, Sara Whitely, Libby Barry, and Brianna McDowell for queen. The nominees for king are Mason Cook, Lucas Miller, Ben Nielson, Cole Wheeler, and Ryan Shrier. The coronation will be held at 10 pm during the dance.
After the dance many people will make their way to the high school for "after-prom". It is held from 12- 3:30am. After-prom will include food, raffles, black jack, an obstacle course, and a hypnotist.
The festivities on prom night are always a great time but this year I remind everyone to stay safe. Don't do anything that will endanger you or the people with you.