Pasewald brings "pizazz" to athletic department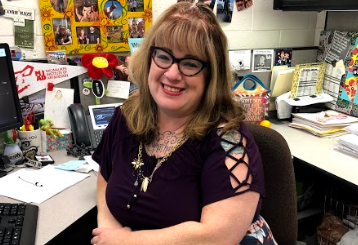 Mrs. Heather Pasewald has been working with Unit 5 for 13 years and in the athletic department at West for 7 of those years. She is known for her spunky spirit and "pizazz" she brings to the PE and athletic department. I sat down with her to learn what her job entails, and what it really means to be Pasewald. 
Q: What is your job?
A: "I work for the athletic director, Mr. Lewis. I also get students prepared for the next sports' season. I have to ensure students have their applications and sports physicals completed and turned into the school. I also balance all the money for the athletic department. Right now my job is a bit slow but, as winter and spring sports pick up I will be busy. I'm also in charge of selling the activity passes in the fall during school registration. I handle the summer camps, award banquet preparation, and eligibility for athletics regarding my job duties"
Q: What do you enjoy most about your job?
A: "I like that it changes day to day. I think if it was the same everyday it would get pretty boring. I like the aspect of not knowing what the day will bring. Being at West is great. I love the students. I love the staff, they're great. It's the camaraderie at West that I love the most. It's neat that my position is technically in administration, however, I get to work in the PE department area so I have two groups of people working with me."
Q: What staff members do you work closely with?
A: "When I first started I met Mrs. Sharer-Barbee, who works about two offices down, and she was the most welcoming staff member. She took me under her wing and introduced me to many of the staff members here at West. She started teaching here a year prior to me so she had that under her belt. I then met the group I have lunch with now everyday."
Q: Are you involved in any activities here at West?
A: "I help Mrs. Long out with Pride Club occasionally. I'll help with really anything that's needed. If the IMC every has any questions like, would you like to be in the picture? I say sure, why not? I like participating in the spirit days. Those are super fun. It's a great way to get the students involved too. When the students see the staff is having a good time, they're not as scared to maybe have a good time themselves. High school is a tough time and students often care what others think, but, I think when they see that adults really don't care that can help them as well."
Q: What are some interests and activities you have outside of West?
"Well, I'm married and my husband and I have one cat named Rerun. We like to go camping. My husband and I love to travel and we like to find different things off the beaten path. For example, we've driven 200 miles out of our way to see a giant rock and take a picture with it. Many of our friends live up north so we tend to travel up there quite often. We have 5 nieces and nephews in Wisconsin. They're at a good age, they're all under 8, so they still think we're cool. I also cross stitch and love reading."
PE teacher, Mrs. Sharer-Barbee works with Pasewald everyday and has created a strong friendship with her. "We eat lunch together everyday and whenever we have department meetings we invite her because we consider her to be a part of our department," said Sharer-Barbee, "My favorite thing about her is that even though she's part of the athletic department she's not an athlete herself so she's able to break the mold of what many people think about physical education. She definitely adds some pizazz to PE."