Wildcat baseball sweeps rival Ironmen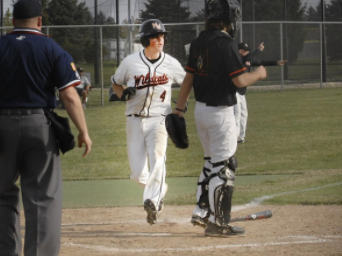 On Thursday the Wildcat varsity baseball team completed the 2 game sweep of Unit 5 rival Normal Community, with the first game of the series being played on Tuesday.
Junior Austin Collinson started on the mound for Normal West, and pitched 5 ⅔ innings, allowing 3 hits, and a walk, while striking out 8 batters. Collinson also held the Ironmen scoreless in his outing.
"I wish I could've finished the game off, but we got the win against Community so that's all that matters," said Collinson.
The game remained scoreless until the Wildcats put up 2 runs in the bottom of the 3rd inning off of a 2-run single from senior first basemen Ben Smith. "It was a good pitch with 2 strikes,"said Smith. "I got a little lucky with the defense playing where they were, but it put up runs to give us the early lead."
The senior also had another RBI single in the bottom of the fifth inning to add to the Wildcat's lead.
The Wildcat scored their final run in the bottom of the sixth off a passed ball. Sophomore Will Kafer scored Normal West's fourth run, and his second run scored on the day.
"I've had a great time playing at a higher level this year; it's been great to have a mostly successful start to my season," shared Kafer. The sophomore went on to allow NCHS' only 2 runs of the game in the top of the 7th inning, but still managed to get the save.
Normal West won the game with a 4-2 score and improved their record to 6-6(2-0) for the 2018 season.