Normal West softball season begins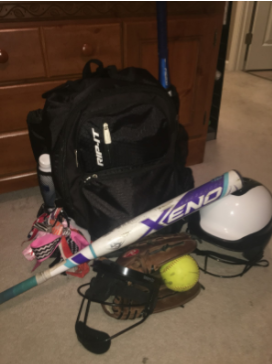 Softball season is beginning and many girls are trying out to be on the Normal West team.  Tryouts were held after school on Monday, February 26th, and Tuesday, February 27th. 
They continued Wednesday, February 28th before school.  The JV team is coached by Coach Steve Bruck and Coach Mike Sondgeroth. The varsity is coached by Coach April Schermann.  Coach Cumbess is a hitting coach and Coach Starkey is a 1st and 3rd base coach.  
There is no freshman team; there is only JV and varsity.  Freshman are able to make it on the JV team or the varsity team.   
According to Lauren Adcock (10) who was on the JV team last year, "The thing I am looking forward to most this season is meeting all the new players and coaches that have joined our program and working with them everyday to create the family bond that we always do throughout the season."  
The Normal West softball season will end with the state series in May, and could potentially go into June depending on the results of the state tournament.
Over spring break, the varsity team will go on a trip to Florida.  The softball teams all participate in certain fundraisers in order to pay for the trip the team takes every two years.  At the beginning of the softball season, they sell Fannie May chocolates to students, teachers, and parents.  They also sell Normal West softball apparel to raise money.
The fundraisers are improving the softball program.  Last year, the money went towards building a second batting cage and bullpen in the field.
According to Lauren Adcock, at tryouts they perform drills that consists of the fundamentals of fielding, hitting, catching, throwing, and base running.  They also do drills to work on their cardiovascular and muscle endurance, like timed running around the bases, playing catch, pitching/catching, long distance throwing, and many more.  
According to the Normal West website, the first JV girls softball game will be held on March 14th at 4:15.  It will be here against Metamora.  The first varsity girls softball game will be held on March 15th at 4:15, and will also be at Normal West against Metamora.