West proving ability to win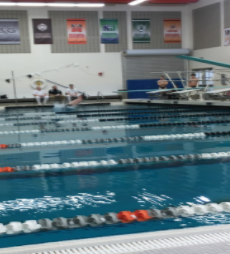 Normal West's winter sports teams are showing that they have something to prove, as all of the teams have winning records.
The Wildcat boys basketball team is currently at a record of 11-2. They have won 10 games in a row, after winning their first game and losing the next two to rivals Normal Community and Bloomington High School.
"(Nate) Duckworth has really stepped up as a leader this year,"said coach Brian Cupples. "He has been a key player in most of our wins." This is the junior's second year on the varsity squad.
The girls basketball team is having a good year, starting out 10-6 in their first 16 games. Just like the boys, the first two losses were to Normal Community and Bloomington.
The Wildcat wrestling team has had their best season in years. The varsity squad has yet to lose a dual meet, including a win last night against Peoria Notre Dame and Danville High School. They aim to win the conference next week.
Sophomore heavyweight wrestler Skyler Hufeld has been a big force for the team. He looks to advance to the state tournament this year, just as he has done every year since the 6th grade. Hufeld was crowned state champion in 8th grade.
"Yeah I can't wait for those last tournaments,"he said. "I have high expectations for myself but I'm trying to remember to stay confident, but realistic."
Normal West's swim and dive team has also gotten off to a hot start, they are also undefeated in dual meets, including their Senior night meet against Central Catholic.
Senior captain and diver Caleb Jirik shared his thoughts on his last season,"I'll miss swimming here for sure, but I'm really glad I'm ending my career here at West on a high note. This is one of my best seasons yet."