Normal Parks and Recreation's Summer Theatre Program prepares for summer musicals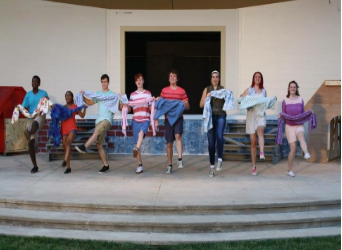 Normal Parks and Recreation's Summer Threatre Program's auditions are forthcoming and both the directors and students are showing their excitement for a summer full exclamation points as well as memories.
Becky Griffin, Spamalot! director, is excited to see the new faces and those returning to summer theatre. Griffin is also excited for the show because, "This show is inspired by the movie Monty Python and the Holy Grail, so that in itself is awesome. It's going to be incredibly fun and a great way to start the summer."
Miranda Buob, Footloose! director, is looking forward to the fun, upbeat show. She said, "I know the kids will have a lot of fun with this and that always helps me have even more fun with it. This show is all about fighting for what you believe in, and I know that the kids will be able to relate and really get into their characters, not to mention the show itself."
Senior Nick Koch has been involved with summer theatre since fourth grade. Koch's first show was The Sound of Music; regarding that he said, "They needed kids that year, so I auditioned. I remember getting really nervous and turning red; however, I got the role of Kurt von Trapp. I met a lot of people that summer and I fell in love with the program."
Koch said that his favorite thing about summer theatre was meeting different people and getting to share common interests with them. It brings everyone closer together.
Normal Parks and Rec's program this year allows incoming freshmen through graduated seniors in high school to audition on May 5th 5pm-10pm or May 6th 8am-11am with call backs from 1pm to 5pm on the 6th as well. Anyone from any surrounding high schools are eligible to audition for the shows.
What is needed for auditions includes: an excerpt of a song preferably 16-32 bars, which can be sung a capella or with an accompaniment, a monologue, which can be found on the NPR Summer Theatre Rehearsals page on Facebook, and everyone auditioning should be prepared for a dancing portion.
For auditions, it's important to look presentable, but consider the fact that there is a dance portion in which it's important to be able to move.
If someone auditioning is called back, that just means that the director wants to see that person in a specific place. Music and scripts will be provided at the call back.
Rehearsals for those cast in Spamalot! will start on May 8th. The show opens on June 8 and goes through the 11th as well as the 15th through 18th. Tech week will be the week leading up to the show.
Rehearsals for those cast in Footloose! will start on June 12th. The show dates will be July 13th through the 16th and the 20th through the 23.
It is also possible to be cast in both shows if those auditioning are willing and have the time to do so.
All shows will be performed at the Connie Link Amphitheatre.