Normal West track season begins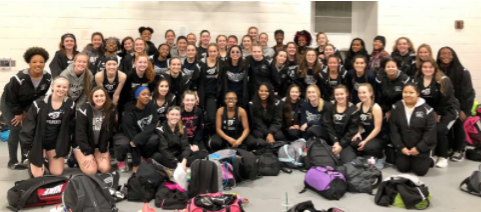 Spring is here and track season is starting.  Girls and boys had the opportunity to try out for the track team, and were able to make it on either the JV or the varsity team.  The track team at Normal West is fairly large, but only a handful of athletes qualify for competition at meets.
The first indoor track meet was Saturday, March 3rd.  There was also a meet on Monday, March 12th. The girls track team is coached by Coach Amy Copple, Coach Mike Heffron, and Tyler Dea.  The boys track team is coached by Coach Chad Aubin, Coach Megan Starkey, and Coach DeShawn Wilbern.
According to Ashley Coppenbarger (10), who is on the varsity team, "preparing for meets is probably all the little things.  The best thing to do is both mentally and physically prepare for everything before you run. In order to have a successful team overall,  support is a key factor. If the team doesn't support each other, the motivation goes down, causing the running to become slower."
The track season for girls and boys will continue all the way to May until the state series.  For girls, the first Big 12 Conference meet will be located in Urbana at 4:30 PM on May 4th. The first sectionals meet will be located in Danville on May 10th at 3:45 PM.  
For the boys, the first Big 12 Conference meet will be located at Peoria High at 4:00 PM on May 9th.  They also have a Big 12 JV invite located at Bloomington at 10:00 on May 5th.
Like many other teams at Normal West, the track team does fundraising in order to support the team with things like track gear and equipment for the meets.  To be able to have this money, they sell apparel and food at the meets hosted here at Normal West.
According to varsity team member Kaitlyn Hardin (11), "It's really important to build the team members up in order to keep the motivation up during practice and at meets.  Even though it can be pretty intense, it's also important that we all try our best at practice to get our best results during meets."