Girls swim team working hard to reach goals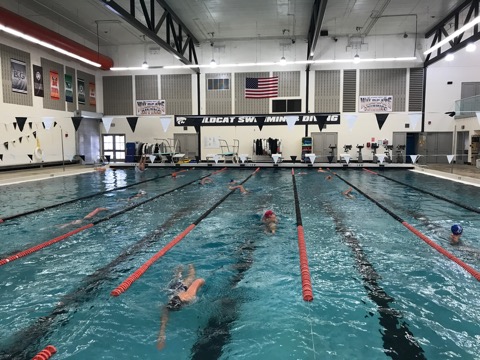 The swim season began in the middle of the August and the girls have been working hard since. The team has 32 girls which is the biggest team West has had in years. The team also has three divers this year.
Coach Dawn Fudge said "Our goals for the season would to get as many girls to the state meet, send three relays to state, and then have the team place in the top 15 at state." Since the girls have started the season they have had morning practices which could then be followed by a shorter practice in the afternoon. Fudge added, "the girls typically have three to four morning practices during the week".
She also mentioned that the morning practices make the afternoon practices shorter which gives the girls extra time to focus on their school work. When asked what she has thought to be the best part of the season is that the team is getting along really well.
The captains of the team this year are seniors which include Grace Gallagher, Caroline Rhoda, and Haley Dees. Haley Dees (12) added that "A goal would be to send our 200 free relay to the state meet. Another goal is that I hope every swimmer breaks their personal goal."  Gallagher added "A goal for the team would to be beat Bloomington at the Intercity meet" Rhoda (12) commented that "A goal for our team is to place at the Deerfield Invite."  A goal that the captains all shared was that they would like to send as many individuals or relays to the state meet.  
On September 12th the girls swim team swam against Lincoln and Pontiac. The Wildcat girls won the meet with 130 points, to Pontiac's 46, while Lincoln finished with 9. Senior Melissa Pish broke the school record in the 100 back with a time of 59.12.
The Wildcats swam on Saturday when they competed at the NCHS Invite. The tem finished sixth with a score of 205 points. Edwardsville won the meet with a score of 350 points.