Thunder cruise into playoffs
In their second season, the Bloomington Thunder have clinched their spot in the Clark Cup USHL playoffs.
The Bloomington Thunder finished their season with a record of 36-18-5-1. This record earned them the fourth and final playoff spot in the Eastern Conference of the USHL with 78 points.
The team is currently playing the Cedar Rapids RoughRiders who finished with the best record in the USHL this season, with a record of 40-15-3-2. The teams have split the first 2 games of the best of 5 series.
Games 3 and 4 will take place at the U.S. Cellular Coliseum on April 22nd and April 24th.
The first game ended with a Cedar Rapids win with a score of 7-1 in favor of the RoughRiders. After such a blowout, the second game would determine the momentum of the series and because of this the Thunder took control and won game 2 with a final score of 7-3.
Thunder forward Mitchell Chaffee was asked about his team's success after game 2 and he said, "This team is filled with guys who love the game and we have all grown so close and we all want to win this together. We don't plan on exiting the playoff bracket anytime soon and our performance during game 2 shows that."
The Thunder are led by the goal scorer Logan Lambdin who tallied a Thunder record of 28 goals and 19 assists. Hayden Lavigne, the starting goalie for the Bloomington Thunder, along with Lambdin, are the keys players for this playoff team. Lavigne has posted an impressive record of 26-9-1-1.
The Thunder have become just the second Bloomington hockey team to make the playoffs since the sport arrived at the U.S. Cellular Coliseum in the fall of 2006.
Avid hockey fan Mr. John Bierbaum spoke about the Bloomington Thunder's performance and he said, "I've watched this team grow throughout the season and I must say they're a very impressive team and I believe that they have the potential to go far into the playoffs."
While this town isn't known for it's fan support, it's important that everyone comes out to Downtown Bloomington and supports the Bloomington Thunder as they try to take home the 2016 Clark Cup Championship.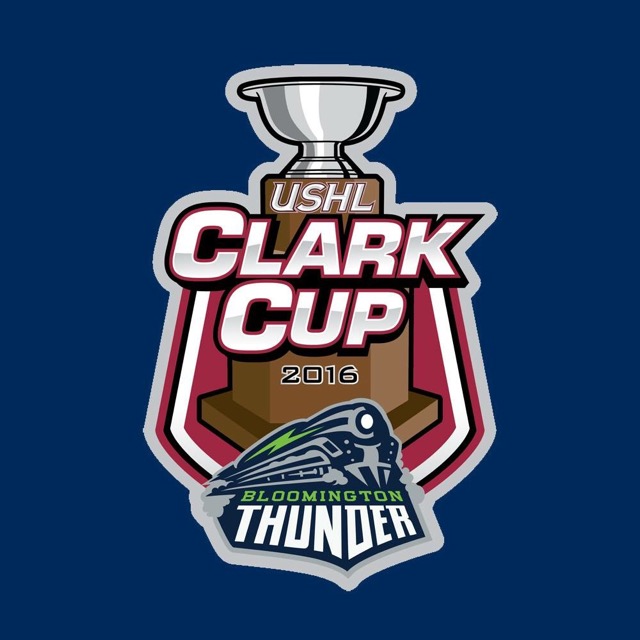 Games 3 and 4 will take place on April 22nd and April 24th, respectively.