Coach's challenge raises questions about rules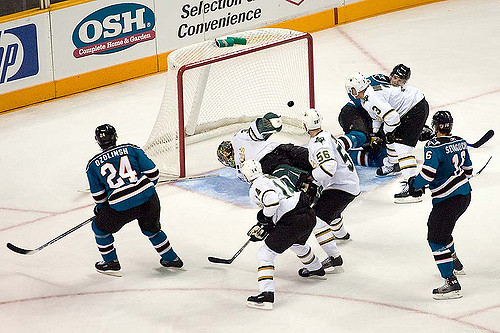 The 2015-2016 NHL season brought new rules; the biggest were the additions of 3-on-3 overtime and the coach's challenge. Many were excited for the addition of the coach's challenge because they thought it would help improve the outcomes of games, similar to the NFL.
Unlike in the NFL where each team gets two challenges and can only use them if they have a timeout, each NHL team will only receive one challenge due to only having a single timeout. According to the NHL Official Rule Book, coach may only use his challenge on two occasions; an offsides call that leads to a goal or on scoring plays that involves goaltender interference.
But as playoffs draw closer, some are wondering how the rule will affect who moves on and who is eliminated. For Blackhawks fans this has become a very real concern.
Over the past week, the Chicago Blackhawks have had two coach's challenges go against them, disallowing both goals for goaltender interference.
On February 4th, during the first period against the Arizona Coyotes, Marian Hossa scored a goal on goaltender Louis Domingue that was challenged by Coyotes' coach Dave Tippett. The goal was reviewed by the referees and determined to be a no goal because Hossa had interfered with Domingue.
Blackhawks coach Joel Quenneville was outraged on the bench, jumping up and down screaming at the referees asking for an explanation. For his behavior Quenneville was given a minor penalty that the Coyotes cashed in on, giving them the lead at the end of the period. The Blackhawks came back to win 5-4 on an overtime winner from Jonathan Toews, however.
At first the no goal didn't seem like a big deal, but when it happened for a second time a couple games later, it started to raise questions.
On February 9th, again during the first period it appeared that Chicago would take a one goal lead off a goal from Brandon Mashinter. Again the goal was challenged by San Jose's coach Peter DeBoer. After review the call was reversed and the goal was disallowed because the referees believed teammate Dennis Rasmussen interfered with the San Jose goaltender. The Blackhawks fell to the Sharks 2-0.
Following the game, Blackhawks Joel Quenneville stormed out of his presser after only one question. Reporters asked Quenneville about the two disallowed goals in three short games and he had no problem sharing his feelings about the calls and rule for goaltender interference;
"It's gotten to a different level. I don't know the rules anymore, or something's changed. My understanding-I played a lot of hockey. I don't know. I think everybody has a interpretation, what's a good goal what's a bad goal. But I can't believe it," Quenneville said.
He then threw his hands up and walked out.
"I'm not even sure what the rule even is anymore," said Summer Crowner, a Normal West junior.
According to the NHL official rule book, goaltender interference is described as:
"This rule is based on the premise that an attacking player's position, whether inside or outside the crease, should not, by itself, determine whether a goal should be allowed or disallowed. In other words, goals scored while attacking players are standing in the crease may, in appropriate circumstances be allowed. Goals should be disallowed only if: (1) an attacking player, either by his positioning or by contact, impairs the goalkeeper's ability to move freely within his crease or defend his goal; or (2) an attacking player initiates intentional or deliberate contact with a goalkeeper, inside or outside of his goal crease. Incidental contact with a goalkeeper will be permitted, and resulting goals allowed, when such contact is initiated outside of the goal crease, provided the attacking player has made a reasonable effort to avoid such contact."
If the NHL is to follow their own rules, then why was Hossa's goal disallowed? Hossa had no way to avoid the goaltender, he was shoved into him by the defensive player. His intentions were to crash the net and set up for a scoring play; in the replay clearly shows Hossa being pushed into the goalie.
As for Brandon Mashinter's goal, it's not as clear cut as Hossa's but reviews still show there was no intention for Rasmussen to interfere with the San Jose goaltender. Referees said his glove got caught between the legs of Rasmussen, hindering his ability to defend his net.
Frustration with the rule is definitely present in the Blackhawks organization, their fans and the NHL. Fans are worried that these wrong calls could cost their team another chance at Lord Stanley's Cup. The question now is, does the coach's challenge belong in the NHL? It may be the first season this rule is put into effect, but is it going to be helpful or harmful in the future if it stays as a rule?