Packers look to make comeback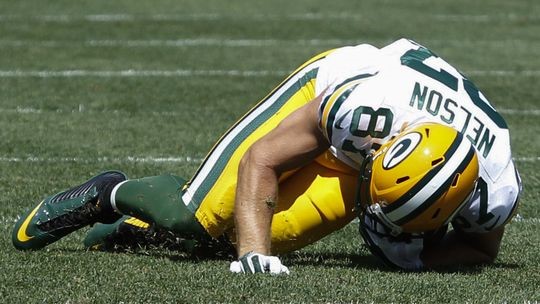 The Green Bay Packers can't seem to get a break. With a record of 7-4, the Packers have lost the last 3 games in a row.
On August 28, in a preseason game, wide receiver Jordy Nelson went out of the game with a torn ACL. He will remain out for the rest of the 2015 season. Jordy Nelson was ranked second in the NFL last year for catches of 40 yards or more. Nelson was Aaron Rodgers' number one receiver and his loss has had a big impact on the team.
Aaron Rodgers told ESPN, "It's difficult to lose a guy like that in a meaningless game."
Davante Adams was named the replacement for Nelson for the rest of the 2015 season. But so far Adams lacks the skill set to make up for the loss of Jordy Nelson.
For the first time in Coach Mike McCarthy history as the Packers Head Coach, he has turned the play calling over to Assistant Coach Tom Clements. Turning the play calling over to the assistant coach worked for about six weeks, but the calls have not been working in the last couple of games.
Coach McCarthy told Fox Sports, "I don't think it's that simple. The way you play, fundamentals and so forth…" McCarthy said when asked if he's considering taking over play-calling once again. "I like the way our staff works and the way it works with the players."
The Packers started the season with an undefeated record, going into week eight, the Packers were 6-0 and so was their opponent, the Denver Broncos. However, the Broncos put in an end to the Packers undefeated season.
In week nine the Packers played the undefeated Panthers. The Packers lost the game 37-29. The Packers started the game off with a touchdown to put them in the lead. But the Panthers came back and managed to take the game in their hands. Knocking the Packers to their second loss in two weeks.
The next week the Packers played the Lions at Lambeau field. The Packers haven't lost to the Lions at home in 25 years, but once again the Packers lost: putting an end to the 25 year winning streak against the Lions at home.
In week 11 the Packers played the Vikings and won 30-13.
On Thanksgiving, things were looking up for the Packers, they had just put an end to their three game losing streak. But again the Packers didn't come to play and the Bears won.
They won December 3, on a winning Hail Mary pass with no time on the clock.