Normal West boy's track team falls short at intercity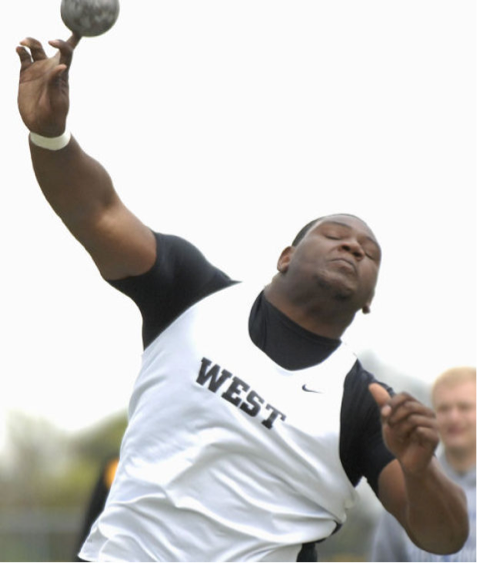 On Tuesday April 28th, Central Catholic held the intercity track meet. Bloomington came away with the win with Normal West falling in second by 4 points. Following in third was U-High followed by Normal Community and coming in last was the host Central Catholic.
West finished with 115 total point. Bloomington came into the meet as the favorite. West was expected to come in second or third to U-High.
The meet came down to the 4X400 relay. Whoever won this final event won the whole meet. Bloomington came in first claiming the intercity championship. West placed in second in the relay, giving them second overall.
West senior Kyrin Tucker finished first in both the shot put and the discus. He threw 58 feet and 10 ½ inches in shot put that was just short of his school record but broke the meet record. He threw 170 feet and 6 inches in the discus.
"Going into the meet I was hoping to break the meet record and also the school record," said Tucker. " I was hoping as a team to come out on top over Bloomington because that was really our only competition."
"Going into the meet I expected it to be a tough meet with Bloomington being the top team, but I knew with the will of these kids we could pull out a win," said Coach Destri.
Yansay Williams ran the 4X100 relay and the 400-meter run, coming in second in the 4X100 and first in the 400. Williams also ran the 4X400 and the 4X200 getting first in both events
"I was expecting to do well in this meet," said Williams. " It was my chance to show everyone in the city that I am one of the better runners in this town. My last Intercity and my last chance."
Leland Groves Ran the 100, 200 and the 4X200 in his final intercity meet, coming in first in the 100, fourth in the 200 and also coming in first in the 4X200 paired with Williams, Cole Bumpus, and Hunter Dunlap.
"Going into my final intercity I wanted to do well," Groves said Friday, " Because every other time I've gone to intercity I've done poorly, and I just wanted to help my team out this time."
As a team the Wildcats wanted to win the whole thing as they do every meet. Their goal was to beat the defending intercity champs, Bloomington, and claim West's first intercity title in five years.
West will have to wait one more year to claim that title as they move on to the next championship meet, Big 12 outdoor championship.