Behind the Super Bowl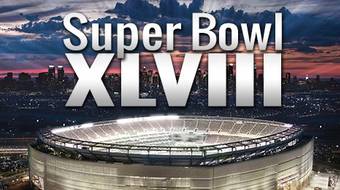 The Super Bowl is this weekend and there are many preparations that go into the production of the game.
"Multiple sources are estimating a $4 million price tag for the average 30-second commercial at this year's Super Bowl," said businessweekly.com. Price has increased $2 million over the last 14 years.
The usual commercials will be airing this year such as Doritos, Pepsi, Toyota and many more. There might also be a reunion of some of the Full House cast during one of the Dannon yogurt commercials.
Over 10,000 workers will be working at this year's Super Bowl. That includes cooks, security, preparation for the half time show, and many more jobs.
"Trucks have begun arriving in the parking lots that will soon be taken over by broadcast trailers, sponsors' tents, food kiosks and security facilities," said New Jersey's sports authority Wayne Hasenbalg. They only have 28,000 parking spaces around the stadium and the news vans and sponsors will be taking up half of them.
This year Bruno Mars and The Red Hot Chili Peppers will be performing in the halftime show. Pepsi is sponsoring the performance. That will also be taking a hefty amount of the 10,000 workers just to set up the stage during halftime.
Some fun facts about the Super Bowl from Fox Sports:
The production team have to make shirts and hats for each team before the game and before the winners have one, so the losing team's shirts and hats will go to a foreign country in need of the supplies.
A ticket for "cheap seats" are $2,400 on StubHub and eBay has tickets for sale up to $500,000. On World Ticket Source the "nose bleed" seats range from $1,550 to $1,948.
In Indianapolis last year when they hosted the Super Bowl, the area earned around $150 million, including things like hotels and restaurants.
When people stay at home they will be consuming a lot of food. Chicken wings, hot dogs, pretzels, peanuts, dips, guacamole and chips are some of the fans favorites to eat while watching the game.
Pizza and Chinese food will be some of the most delivered food during the Super Bowl.
Nearly one-third of adult Americans will place bets on the team that they believe will win, but 92% will actually lose the money that they put into the bet.
The winning team of the Super Bowl comes from the city whose unemployment rates are the lowest.
A vacation would be skipped by 23 percent of those surveyed, followed by an important work responsibility (21%), the wedding of a close friend or family member (20%), the funeral of a loved one (19%) and the birth of a child (15%).
Preperations are in high gear for this year's Super Bowl game.