"Johnny Football" declares for NFL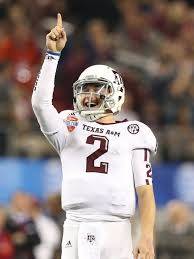 Many would call Johnny Manziel, or Johnny Football the most exciting college football athlete of all time.  He decided to take his talents to the next level by declaring for the NFL draft last Wednesday.
Some experts are skeptical on whether or not Manziel will be successful in the NFL because of his almost reckless playing style.  Others praise him for his unique ability to make special plays out of almost nothing.  He is also very undersized compared to the prototypical NFL quarterback.  The rebuttal to that argument is that Russel Wilson and Drew Brees are both under six feet tall.
Normal West sophomore, Dave Watson said, "He definitely has talent.  The thing that worries me is that he runs too much.  He could end up like Robert Griffin III and being injured and severely hurt."
Senior Connor Gibson said, "I think he's going to be great.  He is easily the most fun player to watch, and he has a great football mind."
Todd McShay, and ESPN analyst, has Johnny Manziel going fourth to the Cleveland Browns.  Some other online mock drafts have him going third the Jaguars and others have him going as low as eighth to the Minnesota Vikings.
Many fans also believe that he's a risk because of his off-the-field partying "issues".  He was dismissed from the Peyton Manning camp in the summer because he was reportedly hungover from drinking the night before.
There is no question Johnny Manziel will always be remembered in college football.  He was the first freshman to ever win the Heisman, and one of the most dynamic players of all time.