IMC expands comic book offerings
There's new comics in the Normal West IMC. It's a rare sight! Scientists have proven that seeing new comics in a library is like watching a T-Rex walk across Main Street! It never happens!
Since I was a freshman in high school my friends and I would get extremely upset at the lack of diversity in the IMC's comic book section. There simply weren't enough to even fill a week of reading time and most of them were not in order.
"Ultimate Spider-Man" had some of the middle and end without any of the beginning volumes. Marvel's "Runaways," at the time, also was incomplete with the first volume and the last volume. And these are just the ones they had which was tiny in comparison to what I believed they should have.
It was frustrating because I could never find any comics at any library, so I was stuck with an incomplete set. It wasn't the librarians fault since they didn't know a lot about comics, so I didn't blame them. In truth a lot of people don't know a lot about comics outside of the movies and tv shows.
However, there was still the matter of where was I going to get my comics, and more importantly where would future generations get educated on the histories and stories from them? (And, of course, where would they get their comics too…)
It happened one morning while I was waiting for the bell to ring in Dr. Bierbaum's Psychology classroom…
My friend Kaitlyn Miller and I were talking about the upcoming Marvel and DC shows and movies, the cancellation of others, and how we wish some of them went with comic plots rather than trying to hit-and-miss with their ideas. Bierbaum was sitting at his desk and he interrupted us and asked who She-Hulk was, which was our current topic.
What came next started my pet project… I told Bierbaum how disappointing the IMC's collection of comics was and how slanted it was towards Marvel and barely had any DC and he replied, "Why don't you come up with a list of comics that we could order and talk it over with Mrs. Hafermann and see what she thinks?"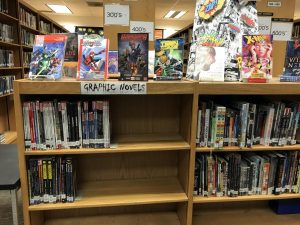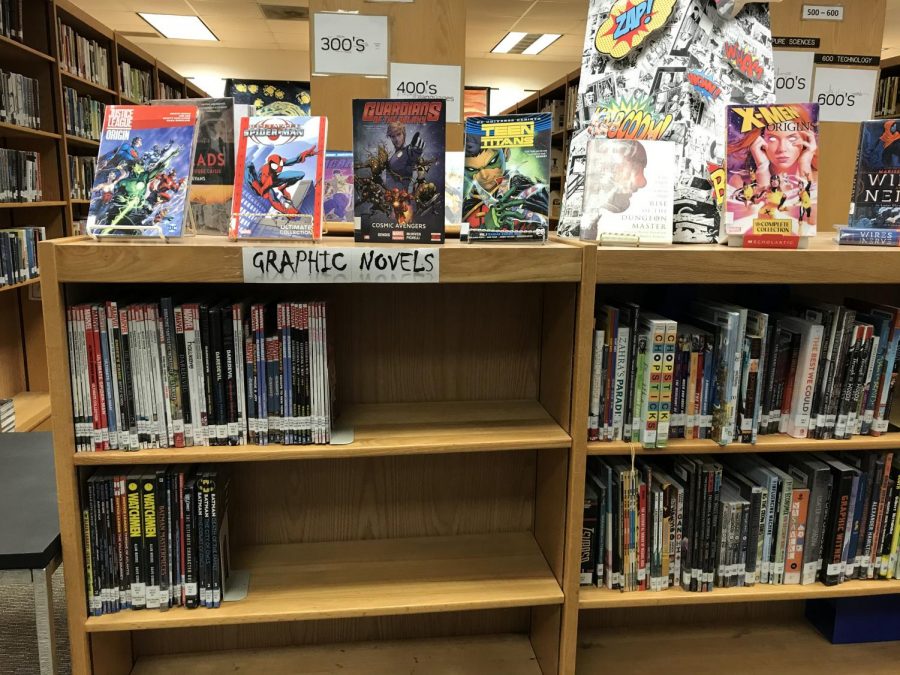 "In the past few years, I became very interested in graphic novels and comics. Teaching psychology, we often discuss "Batman", "The Hulk", "Rorschach" and other characters whose background is rooted in psychological issues. Since then, I have become more aware that many of my students share an interest in comics and wanted to help expand our library's collection," said Bierbaum.
I said sure, why not! More comics for me, my friends, and everyone around.
After talking with Mrs. Hafermann, who supported the idea, I spent the next half of the day making a five page list in a numbered order of DC and Marvel comics. I spent more time on the DC part because that's what they sorely lacked and then emailed it to Hafermann and told Bierbaum, who was not as enthusiastic about the five pages and told me to cut it down.
Hafermann said in an interview that she was happy for my expertise in the area because I could tell her what would be good for high schoolers. For instance, "Deadpool" and "Punisher" (sadly) wouldn't be appropriate for a high school while other comics, such as Iron Man and Wonder Woman would be fine.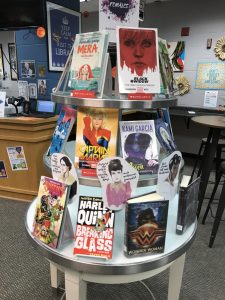 We now have Justice League, Batman, Teen Titans, X-Men: Origins, and Black Widow to name a few. Seriously… that's only a few. Some have already enjoyed reading the comics.
Hafermann said that she hopes the comics will get interest by "promoting them in the announcements and featuring them on display, and maybe even having them on the IMC TV."
If enough of these comics circulate from person to person, then Hafermann and I will order a second and third set of comics for everyone, including me and my friends, to enjoy. 
Bierbaum and Hafermann have both been on my case about starting up a Comic Club, which I have told them I didn't have the time for, but I'm on the lookout for a potential club starter to make them happy.