Everybody should go see 'Everybody'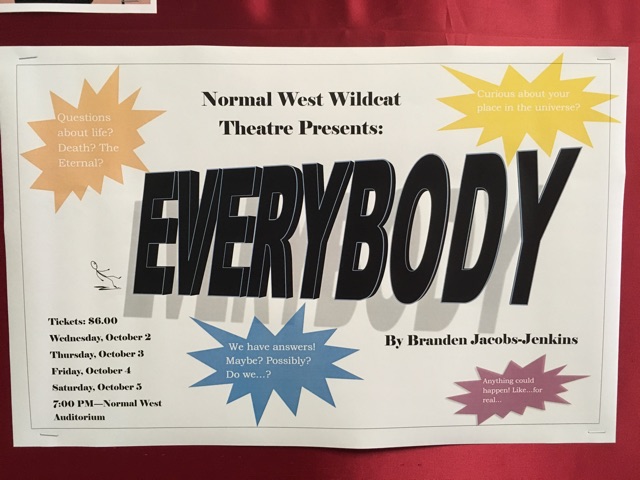 Normal West's fall play, Everybody, is a show on death, life, and eternal life.
The tickets, which start at six dollars, "go down in price each night if you bring a ticket from the previous night" said junior cast member Adeline Swartzendruber.
Drama teacher and director of the play, Ryan Kerr, said, "Everybody is an allegorical comedy with dramatic elements… about life in its transience. It deals with the end of everybody's life and how we choose to grapple with the lives that we've lived and the eternity that we are heading towards."
He later stated that the play should run at eighty minutes without intermission and has "no distinct time period," but it does deal with more contemporary issues that viewers would see in today's world. 
Kerr also commented on the characters themselves, saying that they are "allegories, so they don't play actual people, outside of Everybody, but even Everybody is supposed to represent all of us. So there are characters that will play our friends and there is a character that plays our relations, like our family, and one character will play our earthly possessions. So, they play ideas more than they play people, and that's very much in line with the mid-15th century morality play upon which it is based on." 
The majority of the costumes for the allegorical characters are not in any way specially designed and will be completely contemporary, something we would wear and should see every day.
Sophomore actor Tobi Adams described the character Evil as a "very chaotic, very chaotic evil [character]. [Her] character typically loves mak[ing] everyone's life worse, being evil." Adams added, "When I walk in I am supposed to imagine myself murdering someone. The image I have in mind when I say one of my lines is chopping off someone's limbs and cauterizing the wounds so they don't die from blood loss but they die from shock. So it's very, very evil."
Adams went on to say that the reason the play is well-liked is "because it's really a fun and different idea" and that they "related to it quite a bit because it does talk about this process, this existential crisis moment that everybody goes through and death and what comes after death and figuring out what your life is worth."
Each role, outside of a couple, are not defined by one specific actor. "You don't play the same role every day. You have no idea what you're going to play until right before the show," said Swartzendruber. Each actor picks a piece of paper from a bucket or basket with the name of the character they are playing.
The only role that has a special outfit is Stuff, the personification of earthly possessions. Stuff has "a bigger costume with different objects and items, because they're stuff. They are all things [that] have [been] collected over time that [are] piled up in closets and shelves," said Adams.
Again, the showings are October 2nd-October 5th at 7 PM each night and if the audience brings a ticket from the previous night the price is reduced.