Wildcats hope to keep winning ways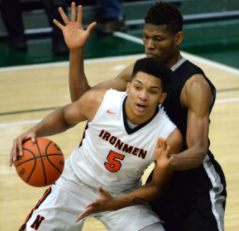 The Normal West Wildcats look to keep their 3 game win streak alive as they take on the cross-town rival Ironmen on Friday.
This is their second meeting of the season, as the first one was held during the Intercity tournament at the Shirk Center in the beginning of the season. Normal Community won the game 53-50.
After losing to the Ironmen, the Wildcats then went on an 11 game win streak, defeating the 2017 intercity champions from Bloomington High School.  Bloomington has beaten Community twice this season is as many games.
"We had some things to clean up from that game, but I do believe we are a better team than we were from then,"said senior forward Drew Yonker.
The Wildcat defense will attempt to shut down junior C.J. Wilbourn, who was a big help in the Ironmen victory over West in November, despite being guarded by stand-out, and nationally ranked junior Francis Okoro.
"He's not the only great player on that team,"said coach Brian Cupples. "They have great chemistry, they just seem to always be on the same page on the court."
Besides Okoro, other juniors have also stepped up for Normal West. Shea Cupples, Nate Duckworth, Terance Fisher have all played big roles in this successful season. Each of them have multiple double-digit scoring games. They also played on the varsity team as sophomores.
The 16-4 Ironmen will host the 15-5 Wildcats at Normal Community on Friday, at 7pm.