Pish collects two state championships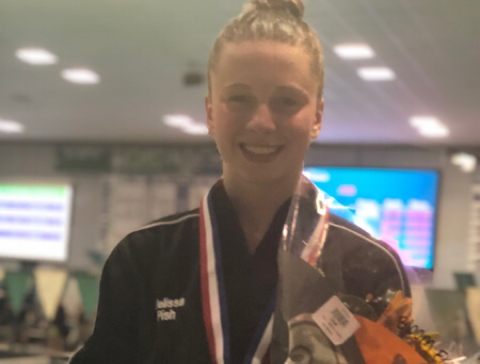 On November 18th Normal West swimming had their first state champion in swimming and later added another championship.  Melissa Pish (12) became a double state champion when she tied for first in the 200 free and then placed first in the 500 freestyle later on in the IHSA state swim meet.
Melissa was the only state qualifier from West at the sectional meet. While being the only qualifier from the team, she would go on to have four practices leading up to Friday's preliminary heats. Even being the only state qualifier from the team it didn't stop other teammates going to practice with her and support her leading up to the meet.
Pish went on to say that, "It was a fun atmosphere leading up to the meet with having teammates come practice with me."
She also said that the short week gave her the chance to catch up to where she needed to be mentally for her races.
Pish would also be traveling to the state meet with some of her senior teammates Caroline Rhoda, Haley Dees, and Grace Gallagher. Pish who has qualified for many other championship meets such as the Olympic Trials went on to say that the atmosphere at the state meet was different that all the other meets due to everyone was in one place yelling really loudly, whereas other meets people come and go. She also said and it was a fun and unique experience to have.
Her teammate, Grace Gallagher, said "It was great to get the opportunity to go and watch because of the fact it's so hard to get tickets." She also added "Illinois has the third fastest qualifying times in the nation, so it was unique to watch Olympic caliber swimmers."
Pish went on to tie for first in the 200 free and then won the 500 free.
She was asked how she felt during her races and she said, "I'm never exactly sure how my races are going, but I felt good during the warm and was confident in how I tapered to the meet."
Her coach, Dawn Fudge, went on to say, "It was incredible as a coach to witness such great success of a swimmer!" She also added, "It shows how the commitment to the sport and hard work can make amazing things happen."
Pish and Fudge both agreed that it was a great state meet to witness with all the success of the downstate swimmers. One of those swimmers would be Grace Ariola from Community who won the 50 free and the 100 back in the finals. Community would go on to place 4th in the meet. West finished 12th with just Pish as an individual.