Business club helps students become professionals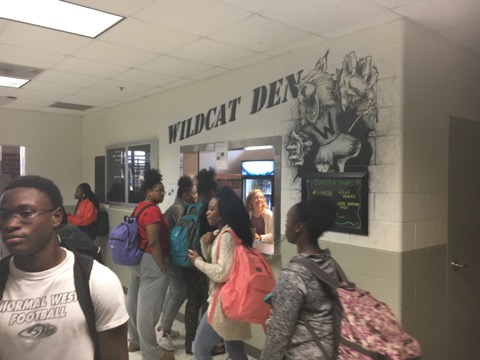 There's no better way to learn and experience more of the business world than joining the Normal West Business Club.  A derivative of the business department, the club offers students an extracurricular opportunity to engage in business concepts.
"Business club gives students an opportunity to be a professional and responsible," said Mr. Franz, one of the teachers in charge of the Business Club.
The Normal West business classes have always been a fun but challenging way to learn about aspects of business, and as students move onto college, business tends to be a popular major to study.
"Students who are part of Business Club participate in competitions, contests, service projects, and work and come up with new products for the school store," Franz added.
Right now students are competing in small groups to provide new ideas for products to sell in the school store.
Senior Holden Lueck said, "The product my team brought in was Nutella with breadsticks, also known as Nutella-on-the-Go."
When asked why his product is better than other groups', Lueck said, "It's a very unique product that isn't found at a typical concession stand."
Other groups have brought fruit snacks, Combos, and Oreo graham mix. The school store also sells Normal West spirit wear, pop, Gatorade, chips and other snacks in addition to these new products.
Lueck said he contributes to the club by helping come up with collective ideas, working at the school store, and volunteering to help out in the community.
The business club is led by all the business teachers but there is also a student president, Tamryn Gromley (12). These positions are usually occupied by a junior or senior.
"I've been a part of Business Club since my sophomore year. I was interviewed junior year and became vice president, and this year I moved up to president,"  Gromley said.
"As president I have to go down and take inventory on the school store, pick up the shifts that I can go to that others didn't sign up for.  I'm not on a team competing to bring new products to the school store, but I get to vote with the rest of the business teachers on which was our favorite," Gromley added.
Most students who join the Business Club want to continue working in the business field when they get out of high school and move onto college.
Senior Caitlin Tippy said, "I hope by being a part of Business Club I get the business experience and hopefully references to use in the future."  
Although the goal of the club is to help with the students' responsibilities, the teachers in charge still have jobs to do also.
"Business teachers all help in meetings, one of us is always at the school store, and we contact the guest speakers," said Mr. Burgess, another business teacher who sponsors the club.
As stated many times by business teachers and the students in business club, their goal is to get into the business mindset and help them become more responsible students.