Mexico: A spring break fantasy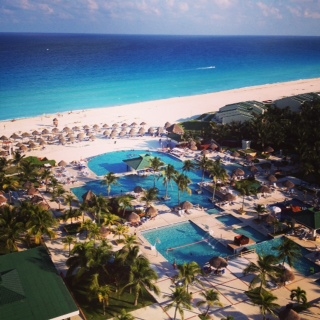 Spring break is the week that everyone looks forward to each year. Its time relax and not think about the everyday school routine. And what is the perfect place to kick back? Thats right, Cancun, Mexico.
Mexico is on multiple lists for being the top destinations for spring break. According to www.usatoday.com, Cancun is at the top of their list "Top places to go over spring break",and I would definitely have to agree with them. It's warm and offers the best beaches. With white sand, and crystal clear waters, how can you go wrong?
 Over spring break my family went to Cancun,Mexico for five days, which was the perfect amount. Mexico is known for their all inclusive hotels, which offers unlimited amounts of great food, which usually comes in forms of buffets, and who doesn't love food?
 The service was amazing, and they were always there to help you when you needed something. Whether it was a simple question or if you needed a nice refreshing drink, which was part of the all inclusive,they were always there with a helping hand.
 The beaches are breathtaking, offering really nice places to sit and suntan or take a nap. The sand is white and the water was a beautiful blue, just like something you would see in a movie. Whether swimming in the ocean waters, or the beautifully  constructed pools, everyone is there to have a good time and relax, away from reality.
 If you want to take a day away from the resort, there are many other activities that you can plan to do. My family took a bus to the shopping mall market. They offered many different types of shops. You can easily find things like souvenirs or high end brands, or simple shoe stores. The money exchange, from dollars to pesos, was very easy to handle as well.
 You can also go on nice scuba diving tours in the Mexican waters. This is something that you really want to take advantage of. For me, this was definitely an experience of a life time!
 In all, Cancun, Mexico is the best choice for your spring break destination. The all inclusive deals will benefit your wallet in the long run, and satisfy your hunger needs.
The beaches are amazing and the workers are top notch. I have nothing bad to say about Cancun, and you should definitely take into consideration into going there in your lifetime. It will be a decision that you will not regret!