Five teams competed in the annual Boys Volleyball Tournament this year, and one rose above them all.
The seniors went 4-0, defeating the Freshmen, Sophomore, Junior, and Teacher teams. The Junior and Teacher teams definitely fought the hardest against the seniors, both taking the matches to three sets.
The senior team consisted of Sam Descarpentrie, BrettBursack, Braden Welter, Bradyn Whitehead, Sam Beirne, Taylor Hafermann, Roman Stephens, Zach Rumps, Jack Wenzel, Axel Nord, Blake Crancer, and Jack Ewing.
They specialized in their offensive play, especially in their serves.
The teacher team consisted of Mr. Ed Hafermann, Mrs. Tera Hafermann, Ms. Emma Barth, Mr. Lundy, Ms. Carrie Webster, Mr. Dustin Underwoord, Ms. Lauren Goveia, Mrs. Kelsey Mueller and Ms. Anna Harkins.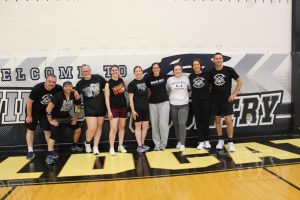 Mrs.  Hafermann came into the game very confident in her husband, Mr. Hafermann's abilities. However, after the game, she changed her tune. "He used to have it but lost it as he got older," she admitted. She was also confused about where her son, Senior Taylor Hafermann's skills came from.
In addition to the volleyball game's fun rivalry, the different classes also competed with their separate student sections. The seniors came in with a demanding lead on this aspect of the competition, as well.