Students fight demolition of Uptown mural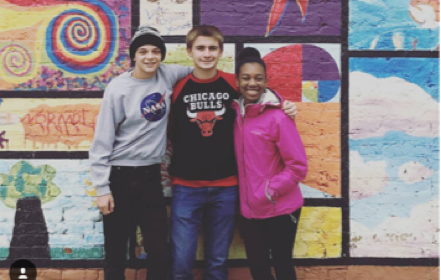 The town of Normal has recently proposed a $29.2 million project that will tear down the mural of local art in Uptown to create a new, five story building. The mural was established in 2013 and it located on the side of the building that formerly contained The Pod.
Despite this project being a town choice to add jobs and efficiency, residents of Bloomington-Normal are lashing back in fear of losing town culture.
The local mural has been cultivating town pride since its creation, as explained in the description of the change.org petition against the tearing down of this mural.
The mural was created with bricks painted by artists of Bloomington-Normal. Art teacher Kailey Geiselman at West added that "[her] art is featured on a brick upon the mural, along with many other local artists in the Bloomington-Normal area".
The mural features a plethora of local artists and two West students recognize this importance.
Takira Jones (11) stated that "by signing the petition and spreading the [#saveouruptownmural] students are attempting to alert more people about this change and spread the word to stop the destruction of the mural". She strives to build a community to stop the town's project, and raise awareness for the importance of the mural to our town.
Gavin Cunningham (11), creator of the change.org petition to save the mural, explained that his goal is to "get the petition to 5000 signatures and then take it to a town council meeting to show that the town cherishes this mural more than a new project".
Both students agree that the Uptown mural is Normal's unique representation of the unity of the town.
These students and others have been spreading awareness in the best way to get young people to notice: through social media.
Cunningham and Jones are among many students who have shared #saveouruptownmural, starting a movement among many young people.
The longstanding mural of Uptown Normal represents the culture and local pride that Normal holds close and is important to the local people that the artwork stay for all to see.