Stem Trig students rushing to finish capstone projects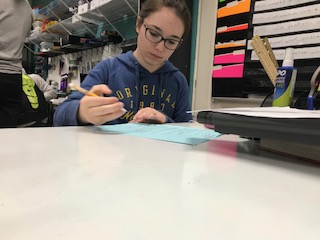 Autumn Johnston, Staff Reporter
April 27, 2018
The Normal West Stem Trig class taught by April Schermann is preparing for their last project of the year, due on May 16th.  Known as the "capstone", the project is a way for students to explore technologies that were not covered fully during the year.
Each individual will get to pick what they do for the project, and students can do virtually anything, so long as it is technologically based, school appropriate, and Ms. Schermann has the materials and equipment needed for it. The students had to make sure they had enough class time to finish the project by the due date and prepare a presentation to be delivered at the end of the year.
Some students are programming lights . In order to do this they have to obtain a strip of lights, learn how to program them, then figure out what order or color they want the lights to display. While Students are doing this, their partners have to come up with an idea of where the lights are going to go or what they are going to do with them when they are done.
One student is programming drones which is difficult because the student writes the code into a computer.  In order to program a drone they have to learn how the computer reads code and how to write code into the computer. The students participating in this project do not get to keep the drone; they just get to program them and fly them once they are done.
A t-shirt press is also an option for the students. They have to find a design, bring in their own-shirt, learn how the t-shirt press works, and learn how to cut out the t-shirt design. Once students are done they can make the shirt and keep it.
Another idea would be 3D printing; students can make anything with the printer as long as it fits in the printer.
Ms. Schermann said, " I like giving student the opportunity to learn things they want to, not what the teacher wants them to do. The most creative project made was last year a student made a wooden sign using the laser cutter to put his college mascot on it."
Delaney Dingerson (11) stated, " I think the capstone project is a great idea it gives us students time to explore new things that we did not get to do during the semester. I chose to make a stem trig t-shirt that has the names of different math tools on it. I chose this so I have something to remind me of my stem trig class and all the fun I had in the class."
"I chose to make a skateboard with the 3D printer and then I am going to put it together and see if it actually works I have to make the board and the wheels out of the 3D printer material which is like a plastic," said Savion Galloway (12) .