Illinois elects Bruce Rauner as new governor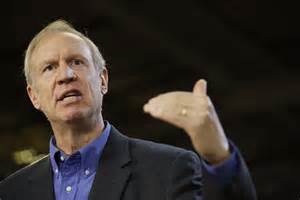 On Tuesday, November 4th, the United States held the 2015 gubernatorial election. The winners of this election were largely Republican, to the surprise of many.
According to NGA.org, three states have not released final election results, however, out of the remaining 47 states, 38 of them have elected a Republican governor. Illinois joined that majority, electing Bruce Rauner as governor.
 While the majority of the state agreed on this candidate, many NCWHS Seniors were disappointed or unsatisfied by the outcome.
Nathan Scanlon, age 17, when asked about the campaigns this year, stated, "I felt like both of them had nothing to say about the issues that are at hand. I just felt like, specifically, Bruce Rauner kept saying 'I'm not Pat Quin' and wasn't offering any real opinions." He went on to say about the new governor, "I feel like Rauner isn't going to be able to do much in office, because the state legislature is still controlled by the Democrats. It's about a 2/3rds majority so they can still override him. He doesn't inspire confidence out of me that he's a talented leader."
Sam Kalina, also 17, largely agreed with Nathan's opinion:
"The only thing I noticed was how much money Rauner and the others spent on campaigning. This election, they spent more money on campaigns than any other in Illinois' history. And all they did was bash each other, it was really annoying." She continued on with her personal opinion of Rauner. "I don't really like him, because of what his plans are with public education, and he's very unsupportive of public schools. I think he said something along the lines of 'if you can't afford to send your kid to private school, that's what you get'."
Bruce Rauner is to be inaugurated into office in January of 2015, along with the other 49 newly elected/re elected governors.