Gas line causes major explosion in New York City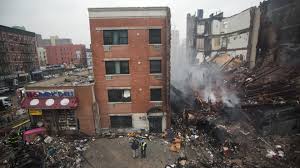 Eight people have died so far after a major explosion  in an apartment building in New York City.
The explosion occurred on Wednesday the 12th, in East Harlem, a neighborhood in Manhattan.
The cause of the explosion is believed to be a leak from the pipe that supplies natural gas to the neighborhood where the explosion occurred. Minutes before the incident, some nearby residents called the police to report a foul odor that they smelled. But it was too late and the building exploded shortly after at 9:30 a.m.
The buildings that were affected in the blast were two five-story apartment buildings that are now completely destroyed. They were located at East 116th Street and Park Avenue, which included 15 apartments as well as storefronts on the bottom levels.
Explosions are becoming more and more common in New York City. When the New York Times asked Mark McDonald of the New England Gas Workers Association, McDonald said, That it is an epidemic." Repairing all of these pipes would not be an easy task. It would cost an estimated $47.3 billion to repair all of the pipes in New York City.
8 people have died so far from this explosion. The dead include Griselde Camacho, 44, a public safety officer for Hunter College in East Harlem; Carmen Tanco, 67, a dental hygienist; Rosaura Hernandez, 21, and Andreas Panagopoulos, 43.Over 50 people have been injured, including 3 children, with one in critical condition.
Witnesses say the explosion "felt like an earthquake" because of the shaking and loud noise caused from the explosion. The explosion was powerful enough to read a .5 on the Richter Scale.
Lawsuits are also starting to be filed. One high school student is seeking $10 million for his injuries that he had during the blast. Many more lawsuits are expected to be filed against the city. "The city failed to ensure our safety by neglecting to the upkeep of those gas lines," said lawyer Robert Vilensky.
The cleanup of the rubble from the explosion is still in progress.