Newest Unit 5 superintendent chosen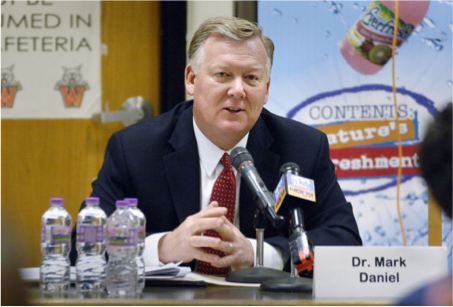 After a rigorous screening process that began earlier this school year, Unit 5 has chosen a brand new superintendent. Dr. Mark Daniel of Dowagiac, Michigan has been selected as the new superintendent as of July 1, 2014 to replace current superintendent, Dr. Gary Niehaus, who is retiring this year. Daniel currently is the superintendent of the Dowagiac Union Schools, holding the position for four years.
The Michigan educator told the Pantagraph, "I am thrilled. I am extremely honored. I'm looking forward to July 1…I have four months to create a transition plan. I would like to formulate that with the board's input and community input as well so as to have something in place when I begin and not to have a lot of wasted time. I look forward to meeting with Gary. Understanding his collaborative nature and professionalism, I think we both have pride in our districts, and I am looking forward to working with him to gain some of his insights, wisdom, and knowledge."
Unit 5 School Board president, John Puzauskas, told the Pantagraph, "What we saw with Dr. Daniel was he demonstrated leadership within his previous districts. It was clear he had a vision to take the district he was working in to the next step. He had the ability to convey that vision and get it done. I feel he can continue that growth and the district's mission 'to educate each student to achieve personal excellence.'"
Daniel was one of three finalists for the superintendent position in Unit 5. Michael Popp, the executive director of kindergarten through twelfth grade teaching and learning for the Indian Prairie School District 204 in Aurora and O'Fallon District 90 Superintendent Todd Koehl were the remaining finalists.
Normal West junior Jillian Garza weighed in on the subject of a new superintendent, saying, "With a new superintendent, I really hope to see a lot more hands-on leadership as well as direct decisions in the district. I feel like most decisions took a lot of time to be made and hopefully we can find a way to have good decisions made without having to sacrifice time."
"I would like to see a rearrangement of priorities and in general just reprioritize what they define as 'important'. I wish teachers would get the benefit of the doubt rather than being fired right off the bat. I also think that we should make reasonable cuts and put district and state standards second," said Emily Waller (11).
The approval of Daniel by the school board as the new superintendent occurred during a special meeting at the district office on Thursday, March 6, at 7 p.m.