Wildcats finally can show off their ink
Spring is right around the corner. As the weather warms, T-Shirts, tank tops, and shorts come out of hibernation, and with those come the opportunity to show off 'the ink'. It's time to see all the tattoos that West students and teachers hid under their sweatshirts during the winter.
"I got this tattoo because music has always been a big part of my life, it's always been important, it's always been there, so I decided to get this tattooed," said Ariana South, a senior at West.
Millions of Americans have tattoos and this number grows everyday. People get them for many different reasons, but some only do it to rebel against their parents, like Mrs. Rudge.
"I got my tattoo when I was a senior in high school, after my parents specifically told me not to.  I thought it was that one rebellious thing I'm gonna do. It has no meaning, that's why I want to get it removed. I regret it because I don't even like sunflowers."
"I got it over the summer 2018, for Livi Sonetz" said Junior Payton Hartke.
Ms. Evans talked about her 4 tattoos. "My first one I got has the semicolon from the Semicolon Project ,which represents mental illness and suicide, because the semicolon in punctuation means: a sentence could have stopped but you choose to go on.My second one is from a Spanish quote, the third is a tree from the book 'A Tree Grows in Brooklyn', which is my favorite book. My last tattoo on the shoulder is a Harry Potter quote: 'Words are the most inexhaustible source of magic'", said Evans.
"I got this matching tattoo with my son last October, It's the symbol of protection with the family nod," said Mrs.Fairfield.
Mrs.Higby, another 'inked' teacher said, "The first one on my wrist, I got after the first friend that I had passed away. It was kind of a unique time because that never happened to me before. I was 18, my mother was not really happy about it at that time, but it means something to me and it can represent multiple people now. The second one I got is an ice cream cone. I was 22-year-old and in college, and there were three of them, so I got it with two other girls and there was really no reason behind it. People always ask if I will get it covered up or something, but I just think it's kind of funny and I'm not embarrassed."
"My first one is the last line of a poem that talks about parenthood, so I got it when I became a parent. My other is three roses that stands for my family, my wife and my children," said Mr. Kerr.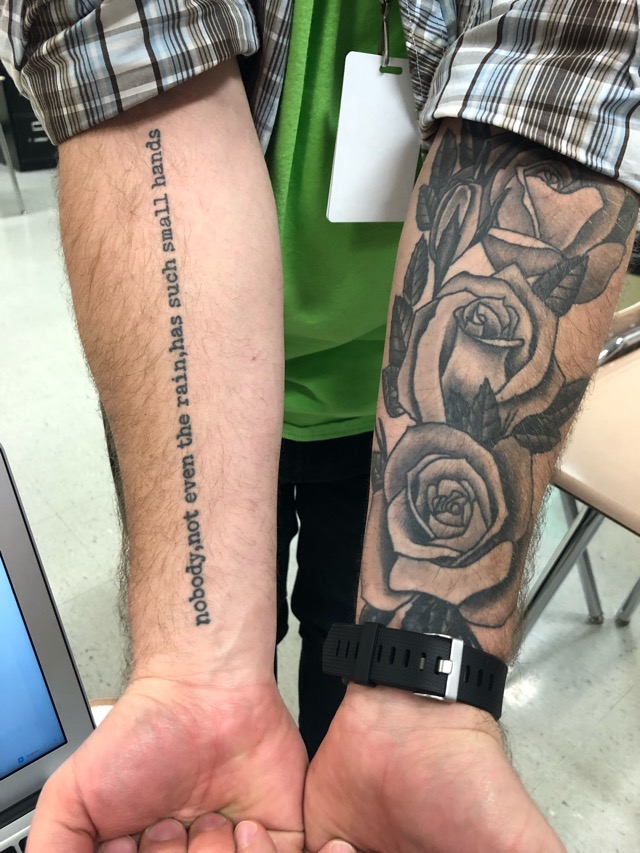 Mrs. Tarmann, our strong woman from the guidance office got her eyebrows tattooed as she battled cancer.
"I got it one year ago because after my chemo therapy my eyebrows just kind of disappeared, so now I have some eyebrow to go with. This kind of process of tattooing is called microblading".
Those are just a few people at West who have ink. When spring begins, start looking around for some ink on your teachers or classmates.