Wildcats get involved in Student Council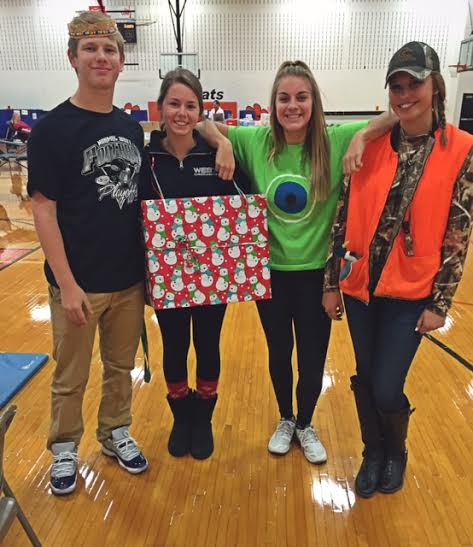 Normal West Student Council started in 1995 when the school opened. It is a club that unifies the community in our school between teachers and students. Student Councils main goals through the year are to raise money, get involved in charity events and put on activities throughout the school.
Among these events are back to school registration, homecoming decorating, assemblies, the October blood drive, teacher appreciation activities and the King of Hearts charitable fundraiser.
Mrs. Hoffman is the faculty advisor of the club and this is her fourth year as leader of Student Council. She stated, "In my position as a school counselor I work with students who are more at risk; being apart of Student Council gives me the opportunity to work with a different population of students."
Student Council is made up of about 50 members with five board positions.There are two people for each board position. For the 2016-2017 school year the board members include Kate Stephens, Grace Maynard, Micah Johnson, Brianna Hamel, Gabi Toulon,Gracie Ecker, Leah Sebade, Matt Salm and Drew Morgan.
Kate Stephens and Grace Maynard are presidents of Student Council. Kate said, "Everyone does everything together on board, but our main job is to make sure everything is running smoothly and correctly."
Gracie Ecker is vice president. Micah Johnson and Leah Sebade are treasurers. Their main job on board is to keep track of the funds. Brianna Hamel and Gabi Toulon are secretaries. They are in charge of attendance at Student Council events and keeping records of what's going on. Matt Salm and Drew Morgan are publicists. Their main duty is to get information out to Student Council members and around the school.
Bekah Nielson is a returning member of Student Council and she said King of Hearts was her favorite activity. "It was so much fun getting involved and helping in the production of the show that so many people at our school come to. All of the money went to a really great cause too, which makes me happy."
Normal West Student Council works hard to promote school spirit, volunteer, bring students and staff together and become active in the community.