The stress of working in high school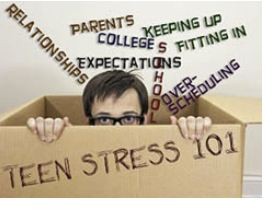 High school is a time when teens are put under the most pressure and stress. The pressure that comes from teachers, parents, and peers is plenty, but to top it off, many high school students also put pressure on themselves by adding a part-time job to the mix.  
Teens have to get a job for a variety of reasons. Some of those reasons include, having money they can call their own and extra money to help support their family.   
Junior Alexus Roberts said, "I've been working at Moe's for a while now, although it's not my favorite job, earning money of my own and not having to ask my mom for money is a good feeling".
The struggle of balancing school work and a job is very demanding to many students. Some teachers, more than others, are more understanding when it comes to their students falling behind in homework because of jobs.
Molly Alvis (11) said, "I work 3-4 times during the week and at least one day on the weekends. Trying to find time to study for certain classes can be difficult to do at times".
What can be done in order to balance school with work? One thing is talking to your teachers if you find yourself falling behind. Most teachers will be able to work with you and ensure that you can be successful in their class. Another option is to take a study hall. Having that free hour at school can be useful to getting homework done on time.
Clinton Bloyd (11) said, "My study hall has helped me in my math class a lot. I can usually finish my homework or go up to the math office for extra help if I'm having trouble understanding anything."
Lastly, it is important for teens to know themselves and know how to manage their time correctly. If a teenager starts a job and works four times a week but can see some struggles in school,  that person needs to cut back on the hours he or she is working.
Having extra money is what everyone wants, but having good grades and keeping up in school is very important in establishing a good future.