Spaghetti supper planned to benefit music program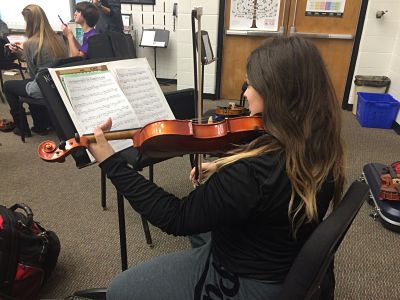 Normal Community West High School will be hosting an event called the Spaghetti Supper on Tuesday, November 2nd to raise money for the school's music program. This is an annual event that is put on every  year and features music from Normal West's bands, orchestras, and choirs, along with musicians from other schools such as Parkside Junior High School.
The concert is free to attend and anyone can come. The money is raised by ticket sales for the spaghetti supper from Avanti's in the cafeteria. Ticket cost is 8$ at the door.
This event is important to Normal West's music program. The money that is raised goes towards keeping the program running. It is often used for things such as buying new music, repairing instruments, and buying miscellaneous but necessary things such as music stands or strings for instruments. Music programs in schools are often given very little funding so events like this play a crucial role in supporting the students and teachers who play a part in them.
"I wish more people would realize how important the Spaghetti supper is and would buy tickets for it," says Sydney Stoewer, a member of Normal West's orchestra. "All the instruments at school are old and broken and we never have enough money to buy nice or new things. We really need the money."
The night features a variety of music from many different ensembles. Normal West's bands, orchestras, and choirs each have a performance with multiple songs. West's musicians are also joined by the bands, orchestras, and choirs of Kingsley Junior High School and Parkside Junior High School.
There is also a variety in the type of spaghetti served to those who buy tickets. There is a choice of meat sauce, marinara sauce, and gluten free spaghetti.
Tickets for the Spaghetti supper are sold by student members of the music program. Students from West, Kingsley, and Parkside all work together to sell as many tickets as possible. They often sell them to family and friends.
"I'm going because I know how important it is for the musicians to raise as much money as possible," says Devin Timmons, a former member of Normal West's orchestra. "Since I was a part of the program I know that as much money as possible needs to be raised."
The event will be held on Monday, November 2. The musicians begin playing at 5 and spaghetti will be served until 7:30.